Women's and Gender Studies
Learn about the myriad issues affecting women and sexual minorities.
Our interdisciplinary Women's and Gender Studies Program will provide you the skills to examine and critique cultural, economic, historical, political, social, and sexual issues using feminist and queer philosophical paradigms. Aside from learning about a cross section of feminist and queer thinkers, places and events, you will explore ideas such as how one's gender affects access to power and whether or not the idea of power itself is an inherently problematic arrangement. You will also have the opportunity to study how other factors such as race, class, sexuality, and ability further impact one's feminist identification. A degree in women's and gender studies opens up the door for careers in activism, education, law, medicine, nonprofit, politics, psychology, and more. We also offer a minor in lesbian, gay, bisexual, transgender, and queer (LGBTQ) studies, which investigates many of the same issues from the perspectives of queer theory and queer thinkers.
WGST Women's Leadership Initiative
Women's and Gender Studies is uniquely well-suited to prepare students to become informed and engaged citizens. Here is a chance for you to demonstrate leadership skills in a community of your choice.
Office Hours
During the spring semester you can contact the WGST Director and Program Adviser, Prof. Namulundah Florence at nflorence@brooklyn.cuny.edu or at WGSTCoordinator@brooklyn.cuny.edu with any questions. All e-mails will be answered within 24 hours.
Prof. Florence also has virtual students' office hours. Please e-mail to schedule an appointment:
Tuesdays: 1-2 p.m.
Wednesday: 1-3 p.m.
If you have an urgent question, you can reach the WGST Administrative Coordinator, Ms. Irva Adams, by phone at 718.951.5476 between 10 a.m. and 5 p.m., Monday through Thursday.
Guide for Prospective Majors and Minors
Student Scholarship
The Women's and Gender Studies Program offers an annual scholarship to two outstanding Women's and Gender Studies majors (WGST). The scholarship is an annual tuition award of $5,000 ($2,500 for the fall and $2,500 for the spring semester), paid out over the student's senior year at Brooklyn College.
WGST Gallery: In Their Own Voice...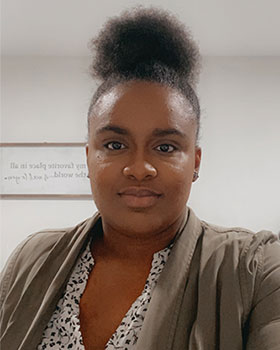 Geeta Asamoah
Constructions of Gender and Sexuality in the Media grants one the knowledge and privilege to filter and understand why it is important for an accurate representation of individuals across different racial, gender and sexual backgrounds while giving you the intellect to have these conversations.
Contact Information
Director and Program Adviser: Namulundah Florence

Location: 1207 Ingersoll Hall
Phone: 718.951.5476
Email: WGSTCoordinator@brooklyn.cuny.edu