Events
Conversations With Barbara Smith
with Barbara Smith, author, activist, and independent scholar
Friday, April 9, 2021
Noon–1:30 p.m.
Part of the Activism > Knowledge > Policy series of the WGST Internal Endowed Chair
Barbara Smith is an author, activist, and independent scholar who has played a groundbreaking role in opening up a national cultural and political dialogue about the intersections of race, class, sexuality, and gender. She was among the first to define African American women's literacy tradition and to build Black women's studies and Black feminism in the United States.
She was a co-founder of the Combahee River Collective and of Kitchen Table: Women of Color Press, the first  U.S. publisher for women of color to reach a wide national audience. She served two terms on the Albany Common Council (2006–13). In 2005, she was nominated for the Nobel Peace Prize.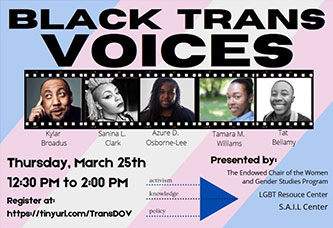 Black Trans Voices
Thursday, March 25, 2021
12:30–2 p.m.
Part of the Activism > Knowledge > Policy series of the WGST Internal Endowed Chair
Kylar Broadus
Sanina L. Clark
Azure D. Osborne-Lee
Tamara M. Williams
Tat Bellamy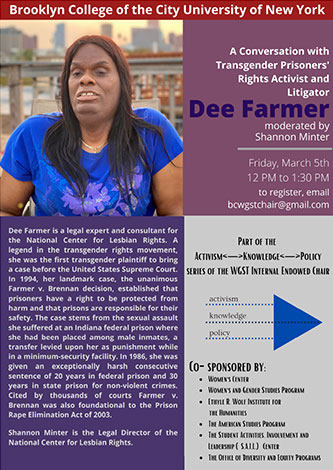 Conversations with Dee Farmer
with Dee farmer, transgender prisoners' rights activist and litigator
moderated by Shannon Miller
Friday, March 5, 2021
Noon–1:30 p.m.
Part of the Activism > Knowledge > Policy series of the WGST Internal Endowed Chair
Dee Farmer is a legal expert and consultant for the National Center for Lesbian Rights. A legend in the transgender rights movement, she was the first transgender plaintiff to bring a case before the United States Supreme Court. In 1994, her landmark case, the unanimous Farmer v. Brennan decision, established that prisoners have a right to be protected from harm and that prisons are responsible for their safety. The case stems from the sexual assault she suffered at an Indians federal prison where she had been placed among male inmates, a transfer levied upon her as punishment while in a minimum-security facility. In 1986, she was given an exceptionally harsh sentence of 20 years in federal prison and 30 years in state prison for nonviolent crimes. Cited by thousands of courts, Farmer v. Brennan was also foundational to the Prison Rape Elimination Act of 2003.
Shannon Miller is the legal director of the National Center for Lesbian Rights.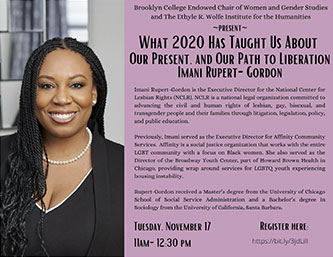 What 2020 Has Taught Us About Our Present and Our Path to Liberation
with Imani Rupert-Gordon
Tuesday, November 17, 2020
11 a.m.–12:30 p.m.
Imani Rupert-Gordon is the executive director for the National Center for Lesbian Rights (NCLR). NCLR is a national legal organization committed to advancing the civil and human rights of lesbian, gay, bisexual, and transgender people and their families through litigation, legislation, policy, and public education.
Previously, Imani served as the executive director for Affinity Community Services. Affinity is a social justice organization that works with the entire LGBT community with a focus on Black women. She also served as the director of the Broadway Youth Center, part of Howard Brown Health in Chicago, providing wrap-around services for LGBTQ youth experiencing housing instability.
Rupert-Gordon received a master's degree from the University of Chicago School of Social Service Administration and a bachelor's degree in sociology from the University of California, Santa Barbara.
Sponsored by the Brooklyn College Endowed Chair of Women and Gender Studies and the Ethyle R. Wolfe Institute for the Humanities.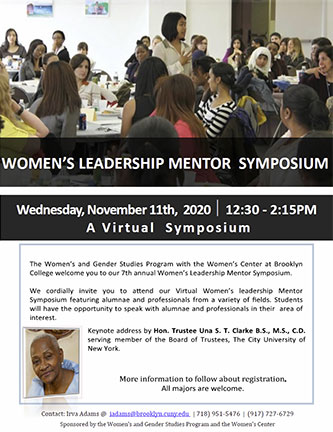 Women's Leadership Mentor Symposium
Wednesday, November 11, 2020
12:30–2:15 p.m.
The Women's and Gender Studies Program with the Women's Center at Brooklyn College welcome you to our seventh annual Women's Leadership Mentor Symposium. The symposium features alumnae and professionals from a variety of fields. Students will have the opportunity to speak with alumnae and professionals in their area of interest.
Keynote Address
Hon. Trustee Una S. T. Clarke, serving member of the Board of Trustees of The City University of New York
More Information
Irva Adams
E: iadams@brooklyn.cuny.edu
P: 718.951.5476
P: 917.727.6729
Sponsored by the Women's and Gender Studies Program and the Women's Center.