Classics
Classics Department Advising
To find solutions for today's challenges, you need a lively sense of what's been tried before.
In the Department of Classics, you will meet a diverse group of students who are eager to develop a critical eye and discover the roots, successes, and failures of the Greeks and Romans—pioneers in history, literature, philosophy, science, and technology. You will work with a faculty of engaged teachers and accomplished scholars to hone your own ability to discern, design, persuade, instruct, and judge in areas as diverse as medicine, law, teaching, business, religious studies, and every profession where communication skills and critical engagement with text are crucial. You'll even have the opportunity to master the ancient languages of Greek and Latin that still inform English vocabulary and can provide you a unique advantage in the sciences and liberal arts.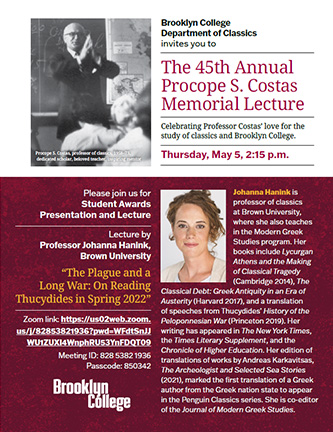 The 45th Annual Procope S. Costas Memorial Lecture: "The Plague and a Long War: On Reading Thucydides in Spring 2022"
with Professor Johanna Hanink, Brown University
Thursday, May 5, 2022
2:15 p.m.
Via Zoom
Meeting ID: 828 5382 1936
Passcode: 850342
Johanna Hanink is professor of classics at Brown University, where she also teaches in the Modern Greek Studies program. Her books include Lycurgan Athens and the Making of Classical Tragedy (Cambridge 2014), The Classical Debt: Greek Antiquity in an Era of Austerity (Harvard 2017), and a translation of speeches from Thucydides' History of the Peloponnesian War (Princeton 2019). Her writing has appeared in The New York Times, the Times Literary Supplement, and the Chronicle of Higher Education. Her edition of translations of works by Andreas Karkavitsas, The Archeologist and Selected Sea Stories (2021), marked the first translation of a Greek author from the Greek nation state to appear in the Penguin Classics series. She is co-editor of the Journal of Modern Greek Studies.
Contact Information
Department Chairperson: Liv Mariah Yarrow

Location: 2408 Boylan Hall
Phone: 718.951.5191
Fax: 718.951.4765