American Studies
View the United States through the prism of history, literature, and the arts.
If you have an interest in American literature but also desire to learn how it relates to American art, film, music and religion and how these influences collectively reflect and shape the attitudes and values of the United States, you are an excellent candidate for our program in American studies. You will explore the strands of American culture and examine the forces of class, ethnicity, gender and race, and how these factors form your identity and contribute to your place in the larger mosaic of American society. Exploring  American culture and experience through the prism of U.S. history, literature, and the arts you will qualify for careers in arts administration, education, journalism, law and public policy.
American Studies Program Brochure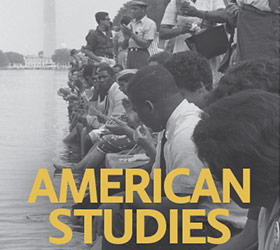 The flexibility of American Studies allows you to pursue your own particular interests and encourages unconventional thinking, while our core electives and individualized advising give your academic program coherence, balance, and depth.