The funding is part of a four-year institutional award aimed at building cancer research capacity at minority serving institutions. The grant aims to increase diversity in the cancer research workforce by facilitating the incorporation of underrepresented minorities in the biomedical field. 
/web/new_2022news/2S9A8431_94x84.jpg
Brooklyn College Cancer Center Awarded $2.6M Grant From American Cancer Society
February 2, 2023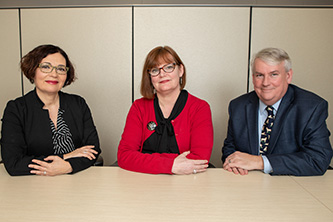 The Brooklyn College Cancer Center, BCCC-CURE, will be training, building, and supporting its network for the next generation of diverse cancer researchers thanks to a $2.6 million grant from the American Cancer Society.
Specifically, the Diversity in Cancer Research Institutional Development Grant (DICR IDG) titled "Supporting Cancer Research at Brooklyn College Cancer Center, a Highly Diverse Institution," will support early career cancer researchers through $2.6 million over four years. The funding will go toward four areas: pilot grants for faculty who are in the early years of their tenure track; support for clinical scientists' research and training; and offerings of two postdoctoral fellowships and six master's scholarships over the length of the grant program.
Other funding earmarked for the center itself will support the mentoring of junior faculty, clinician scientists, and other early career scientists, travel to conferences for BCCC-CURE researchers, plus trainings and seminars on different areas of cancer research. It will also support the launch of the BCCC-CURE Molecular Modeling Laboratory for Cancer Therapeutics lead by Dr. Emilio Gallicchio, professor of chemistry at Brooklyn College and Dr. Shaneen Singh, professor of biology at the college.
"This grant constitutes a unique opportunity for Brooklyn College and the Brooklyn College Cancer Center to support cancer research activities, most specifically for early career scientists in a moment when we are hiring assistant professors," said Maria Contel, director and research area leader of BCCC-CURE. "The money will support principal investigators and their research groups and allow us to train new experts in the field of cancer research. The support included in this grant for clinician scientists is key, as we will be able to recruit and collaborate with clinician scientists in research areas like cancer disparities, clinical translation of drugs, or cancer immunology."
Contel, also a professor of chemistry at Brooklyn College, added that the mentoring and training activities associated with this grant will benefit not only members of BCCC-CURE but members of the School of Natural and Behavioral Sciences, and the college at large. This grant program represents a critical step in Brooklyn College's commitment to mentoring, educating, and supporting the leaders of tomorrow through similar initiatives.
Contel is the principal investigator for this grant. She recruited BCCC-CURE's Associate Director of Community Outreach Professor Jennifer Basil as well as its Associate Director of Education Professor Brian Gibney as collaborators. A team of BCCC-CURE faculty will be mentors of early career scientists and/or part of their selection process, including Professors Guillermo Gerona-Navarro, Aneta Mieszawska, Ryan Murelli, Xinyin Jiang, Devorah Kletenik, Mara Schvarzstein, Shaneen Singh, and Mariana Torrente.
SUNY Downstate Health Sciences University and Memorial Sloan Kettering Cancer Center will be collaborating institutions supporting mentoring and training activities. SUNY Downstate Health Sciences University Dean and Professor from the School of Public Health Dr. Kitaw Demissie and Assistant Dean for Student Engagement and Success Professor Marlene Camacho-Rivera will be engaged in the mentoring/selection teams.
Back to BC News