Benjamin Adams '17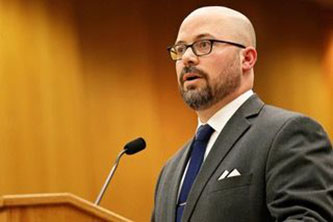 Term Staff Attorney, United States Court of Appeals for the Third Circuit
In what ways do you feel your major in history helped to prepare you for your current career? Are there any skills that you developed as an undergraduate history major that are essential to your work? And can you give us an example (or examples) of this?
Being a history major was absolutely perfect preparation for law school and a legal career beyond that. As academic disciplines, they are strongly related in that they both require a lot of reading, analytical thinking about source materials, and evidence-based writing. So much of law school is about how efficiently and successfully one can use research tools and methods to find relevant sources, and a history background really conditioned me to do that. Moreover, history is about exploring people's motivations and discerning cause and effect, which is substantively the same underlying inquiry the law engages.
Are there any other reflections on your time in the History Department that you'd like us to include in your spotlight?
I think we are very fortunate that the history degree requires us to broaden our scope and take classes from a wide range of eras and geographic locales. In law school and the practice of law, you never know what the substance of the next case will be, and flexibility is key. But more than that, I have discovered in my legal jobs that having a general historian's perspective really assists me in learning about a case or a client. It's one thing to see a completed case and judicial opinion in the casebooks we read in school, but quite another to construct a case from the ground up, using your client and the evidence as primary sources. The history degree helped me to build those skills.
Which history course or courses were particularly meaningful to you during your time as a BC history major and/or have had a lasting influence? Why?
There are obvious answers to this: Professor Johnson's Constitutional History course, which was one of the best courses I took at BC, certainly helped me to get the highest grade in my first-year Constitutional Law class; the history survey course "Shaping of the Modern World" is generally helpful and was well taught to me by Professor Troyansky; and the History 2001 class, which I took with Professor Remy, helped with the research and writing tools I mentioned above.
But I think the thing that may surprise people is the amazing writing samples and background research you can get out of other classes. In another class I took with Prof. Troyansky, about early modern Europe, I was able to lay the foundation on methods of punishment that I still use in my research now, including for a paper that was published by my law school journal. And I composed papers for a colloquium on Comparative Slavery studies with Prof. SenGupta and for Professor Day's course on Africa Before 1800 that I used as writing samples when a prospective employer asked for non-legal submissions. The opportunity to engage with unusual or difficult source material in the history department prepares you for the rigors of graduate study, and I highly recommend engaging with a wide variety of courses.