Nathalie Belkin '13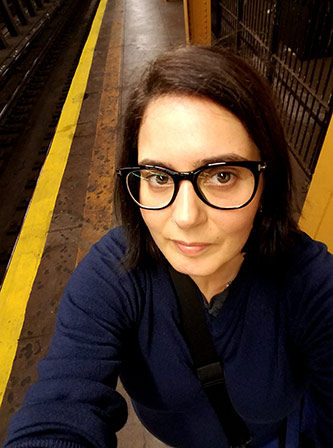 Archivist at The London Library, St. James's Square, London
In what ways do you feel your major in history helped to prepare you for your current career? Are there any skills that you developed as an undergraduate that are essential to your work? And can you give us an example (or examples) of this?
As an archivist it is essential to be able to tell the story of a city or a community, preserve pieces of history, hold people and institutions accountable, as well as improve transparency and access in order to connect researchers with the original documents they need. While this may seem like a lot to ask of a major, it was my major in history that gave me the basic tools I would need to enable this to happen.
First and foremost, the primary source research required and encouraged in most classes has been key to analyzing the importance of information generated from a particular time and place. Knowing how that information was used, shared and received from primary sources and then used by secondary sources, has been essential in organizing and understanding my work as an archivist.
I found that through readings, class discussions, and study I had more questions than answers. I developed skills that widened my scope of understanding. Instead of blindly agreeing or disagreeing with something I had read or heard, I found myself asking questions of history and the historians who created it. I wanted to know how and why certain choices were made. This has proven to be an invaluable skill I could not be without as I work with original materials today.
I am the first trained and experienced archivist to hold this position at The London Library. By using critical analysis skills learned from my time at Brooklyn College, I have been able to create a robust archive, one that is now understandable and accessible to colleagues, members and researchers. The organization of historical materials is not a straightforward matter of simply putting papers in chronological order, they need context.
The London Library archive is an institutional archive which contains materials from its inception to the present, with archival holdings dating back to 1675. Other materials include administrative records created by the Library's staff, trustees and members, purchase and construction of the land and buildings surrounding the present day Library, collected papers of prior members, event outreach and membership records. Without a firm knowledge base of history and how it is told, as well as the ability to conduct historical research, I would never have been able to tell the story required to share the rich history of The London Library.
Are there any other reflections on your history major or time in the History Department that you'd like us to include in your spotlight?
I always loved history, with particular interest in the nineteenth and early-twentieth centuries of New York City and London. Initially I wasn't sure where I wanted to go with the history major, or how I could plan a career around it. But I knew for certain I wanted to be able to conduct research, use primary sources, interact with other likeminded people, share the knowledge I found and make that information accessible. The encouragement and constructive criticism from professors, as well as the variety of classes the history department offered each semester helped to clarify these goals.