Violet Barsuk '14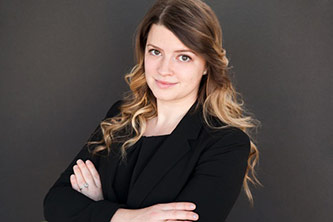 IT Project Manager, MUFG Bank
In what ways do you feel your major in history helped to prepare you for your current career? Are there any skills that you developed as an undergraduate history major that are essential to your work? And can you give us an example (or examples) of this?
A history degree equipped me with a very unique skill set that makes me stand out within the financial industry. The ability to be able to read, understand, and analyze data at a fast pace was a skill I picked up in each of my history classes and one I use daily. As a project manager juggling multiple projects at once I have to be able to think quickly and adapt. I also learned to take a 12-page thought and condense it into 1 page without losing any details. This is something that pays off a lot in my industry because I often report to C -Level executives who have no time to read 12 pages. Networking is very important within the financial industry and a history degree provided me with the ability to have intelligent conversations at work with people from all over the world. Also, the tons of essays you're dreading to write now will pay off in the long run because your writing skills will be top notch.
Are there any other reflections on your history major or time in the History Department that you'd like us to include in your spotlight?
During my time in the History Department, I took a few classes that were required and I never thought I would enjoy them. I would say to be more open-minded because in a lot of those classes I ended up learning the most. They usually end up being the most challenging and rewarding.
Another point to mention is that you may come across many people who will tell you that your career path is limited to certain areas with a Brooklyn College history degree and that is absolutely not true. Use this degree to make yourself stand out because it is one of the best degrees. I always knew I would be going towards the career path I am in now and wanted to learn skills I truly cannot learn on the job and am very thankful for my history degree from Brooklyn College.