Translation and Interpretation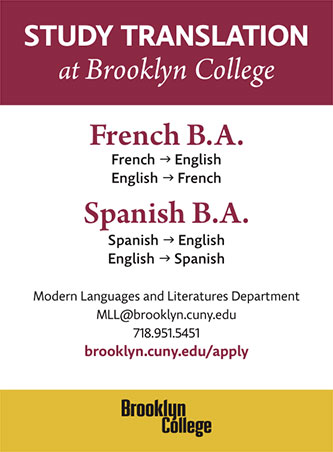 Translators and interpreters are crucial in our globalized world—and represent a great career opportunity for people with language skills.
Employment of interpreters and translators is projected to grow 19 percent from 2018 to 2028, much faster than the average for all occupations. Employment growth reflects increasing globalization and a more diverse U.S. population, which is expected to require more interpreters and translators.
The expectation is that the demand will remain strong for translators of frequently translated languages, such as Arabic, Chinese, French, German, Portuguese, Russian, and Spanish.
Growing international trade and broadening global ties will require more interpreters and translators, especially in emerging markets such as Asia and Africa. The ongoing need for military and national security interpreters and translators is expected to result in more jobs as well.*
There is significant demand in the international cultural industries—television, film, medicine,
 law, NGOs, new media, etc.—for skilled translators. A major in translation prepares you for certification and a graduate degree in translation. A minor in translation serves as a practice-based supplement to a B.A., B.S., or B.F.A. degree and may also be of interest to students with a passion for languages and the humanities.
Students take a total of five courses. Courses include advanced language courses, a literary translation course, translation for the professions course, a capstone independent study project, and an optional internship or an additional elective. Learn more about our translation and interpretation internships.
*This information was taken from the U.S. Bureau of Labor Statics.
Translation Majors
Translation Minor Requirements
Learn More
Learn more about a career in translation and interpretation.