Spring 2021 Events
Philosophy Social Hour: What are Low Level Gist Experiences and Why are They Important?
A Social Hour by Professor Dena Shottenkirk Ph.D.
April 22nd 2021 at 12:30 PM on ZOOM ID: 852 9884 3930 Passcode: 085268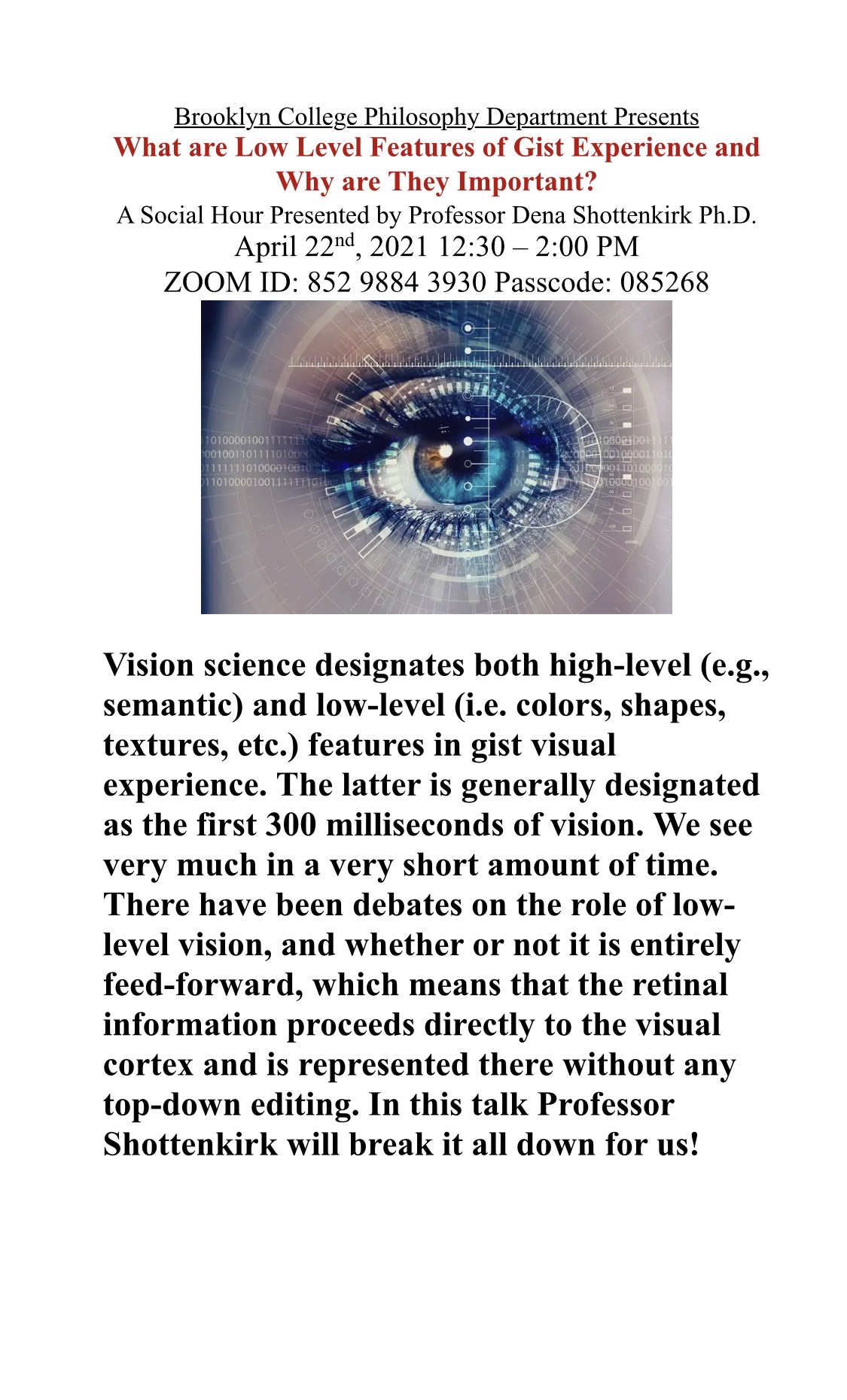 Philosophy Department Student Expo at Brooklyn College
April 27th 12:30 - 2:00 PM, If you're interested in joining this event on ZOOM please pre-register at https://us02web.zoom.us/meeting/register/tzcrdOitpigrHdw9AoeLsWqc2OOnR7c3MYa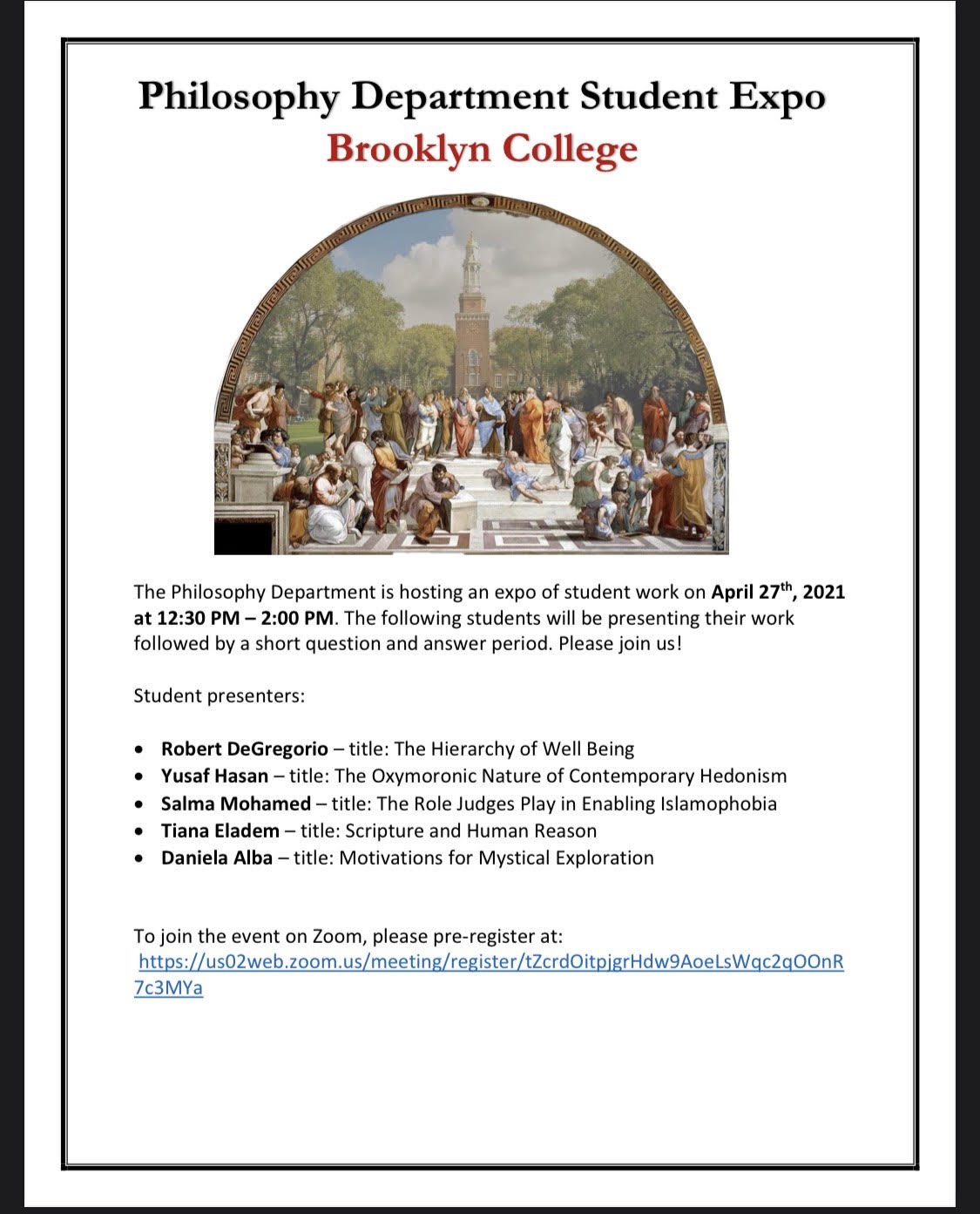 Philosophy Social Hour : From Climate Catastrophe to Energy Democracy? The Case for Public Power
A Social Hour by Professor Michael Menser Ph.D.
April 15th 2021 at 12:30 PM on ZOOM Meeting ID: 845 9502 1494 Passcode: 871256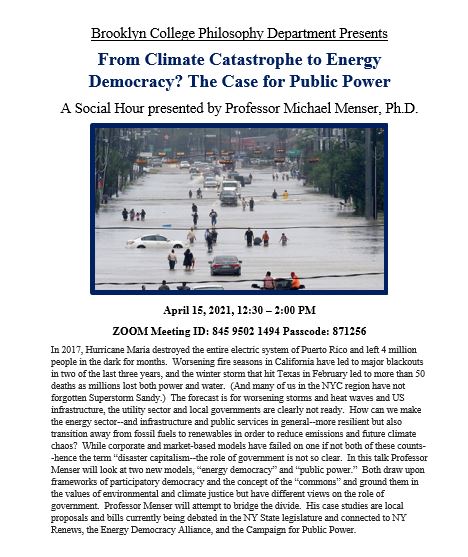 Philosophy Social Hour: Becoming Visible: Digital Identities and Justice
A Social Hour by Professor Anna Gotlib Ph.D.
March 23rd 2021 at 12:30 PM on ZOOM Meeting ID: 861 3436 4305 Passcode: 518606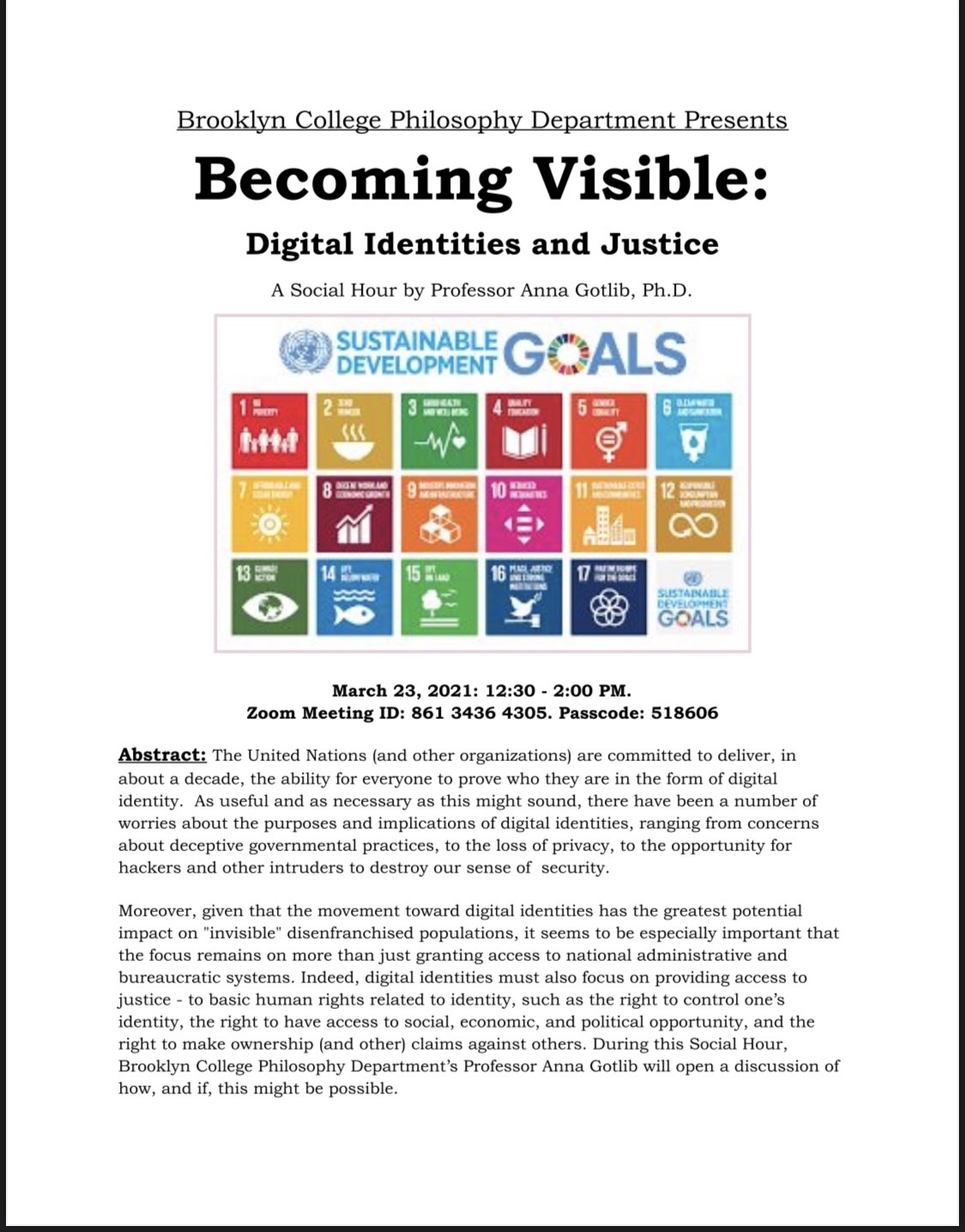 The United Nations (and other organizations) are committed to deliver, in about a decade, the ability for everyone to prove who they are in the form of digital identity. As useful and as necessary as this might sound, there have been a number of worries about the purposes and implications of digital identities, ranging from concerns about deceptive governmental practices , to the loss of privacy, to the opportunity for hackers and other intruders to destroy our sense of security.
Moreover, given that the movement toward digital identities has the greatest potential impact on 'invisible' disenfranchised populations, it seems to be especially important that the focus remains on more than just granting access to national administrative and bureaucratic systems. Indeed, digital identities must also focus on providing access to justice - to basic human rights related to identity, such as the right to control one's identity, the right to have access to social, economic, and political opportunity, and the right to make ownership ( and other) claims against others. During this Social Hour, Brooklyn College Philosophy Department's Professor Anna Gotlib will open a discussion of how, and if, this might be possible.
Philosophy Social Hour : How to Succeed in Your Online Philosophy Classes  
Feb. 23rd at 12:30 PM on ZOOM Meeting ID: 823 6460 6395 Passcode: 484993
Hosted by The Philosophy Department & co-hosted by The Philosophy Society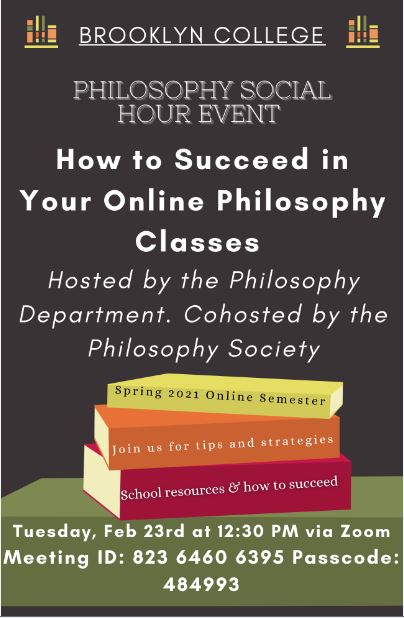 Philosophy is an amazing discipline, but the transition to online format has made it particularly challenging to do well in philosophy classes. The Philosophy Department, together with the Philosophy Society, is hosting a social hour event on how to succeed in online philosophy classes. A panel of professors will speak with students about the challenges of learning remotely as well as tips and strategies for doing well in your online philosophy classes. Please note that this special event is open to ALL philosophy students. 
Topics that will be covered
Tips and strategies for succeeding on writing assignments

Tips and strategies for succeeding on reading philosophical text

Tips and strategies for succeeding on tests and class participation

Understanding and succeeding in Asynchronous classes

How to stay connected with your professors, fellow students, and the department

When to make an appointment to meet with your department advisor

Taking advantage of the writing tutor at BC's Student Learning Center