Brooklyn College School of Humanities and Social Sciences Conversations—Spring 2019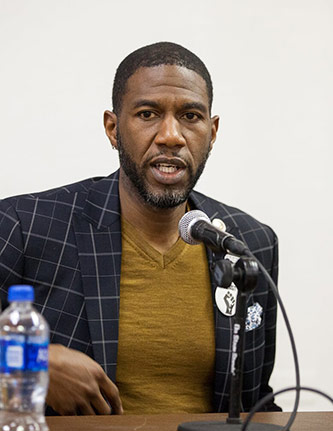 Conversations is a new series featuring Brooklyn College faculty from the School of Humanities and Social Sciences in conversation with public figures on timely topics impacting the everyday lives of people in our community.
Solutions to Youth Violence
On February 28, 2019, two days after being elected to the position of Public Advocate for the City of New York, Jumaane Williams '01, '05 M.A. joined Professor Alex Vitale (sociology) and Legal Aid attorney Anthony Posada (John Jay College of Criminal Justice, '08; CUNY School of Law, '12) to discuss solutions to youth violence. Over the last two decades, New York has enjoyed dramatic reductions in violent crime. Unfortunately, much of the violent crime that remains is heavily concentrated in a relatively small number of areas involving a disproportionate number of young people. The City of New York has undertaken a variety of strategies to address this, including targeted police enforcement and the development of community-based anti-violence initiatives.
Vitale moderated the conversation. He brings to the topic a wealth of expertise on police and the community. He has spent the last 25 years writing about policing and consults both police departments and human rights organizations internationally. He is the author of City of Disorder: How the Quality of Life Campaign Transformed New York Politics and The End of Policing. A good deal of the conversation focused on the Cure Violence programs. Cure Violence is a community-based approach to gun violence that sees the untenable situation as doctors would a disease that has become an epidemic. Vitale's research and comments pushed the audience to reconsider when, if ever, the police are the answer to problems in the community. Jumaane Williams underscored this by noting that if you call in the police for every concern that arises in a community, they will only be able to address the issues with the limited, and dehumanizing, tools they have at hand. Anthony Posada went further. He elaborated on the uneasy and often diametrically opposed visions of Ceasefire (pdf) policing tactics and Cure Violence programs. All three speakers underscored the challenges we have ahead of us in efforts to change the urban culture and preserve life.

Williams is a proud product of a Brooklyn College education, having earned both a bachelor's in political science in 2001 and a master's in urban policy and administration in 2005. He began his career as assistant director for the Greater Flatbush Beacon School and later went on to serve as the executive director of New York State Tenants & Neighbors, a grassroots organization that helps tenants build and effectively wield their power to preserve at-risk affordable housing and strengthen tenants' rights in New York. As a member of the New York City Council since 2009, Williams advocated for affordable housing, anti-gun violence measures, fair policing, equity, and social justice. His major successes as council member include the Community Safety Act, which created the Office of Inspector General for the New York Police Department; the Fair Chance Act and co-chairing the taskforce, which created New York's Crisis Management System; and Cure Violence groups to combat gun violence. He is now the public advocate for the City of New York.
Posada is a co-supervisor of the Legal Aid Society Community Justice Unit. He is also the son of a Colombian immigrant father, recently deported, who spent more than two decades incarcerated in the U.S. prison system. Growing up fully aware of the disproportionate targeting of poor people and people of color by the U.S. criminal justice system, Posada early on turned his attention to seeking justice for those people systematically targeted and cast aside in the very country where they hoped to prosper. In addition to his work at the Legal Aid Criminal Justice Unit, he has given his own time and talent to many efforts to seek social justice. In 2010 he started Project Attica, a collective of lawyers, activists, community members, and artists dedicated to spreading the message of using art to empower New York City youth. He currently serves on its board as the director of the Art Programs.
The audience filled the space in the Jefferson-Williams Room for the Conversations event so that it was soon standing room only. Williams commented both on the space—he knew of both Dean Jefferson and the administrator Geraldine Williams—and on the audience. "This is a really great turnout for a student event," he remarked, clearly impressed. Vitale, who knows Williams and Posada personally, had a special rapport with the panelists. Acting Dean of the School of Humanities and Social Sciences Kenneth A. Gould noted that this "enabled the talk to truly feel like a conversation as I had intended when envisioning this series."