Children and Youth Studies
Latest News
Program Goals
To be aware of the distinct place in society children and youth, as a culturally specific cohort, occupy both historically and in the present.
To understand the complexity and diversity of social conditions experienced by children and youth across the globe.
To link theory to praxis by engaging students in multidisciplinary opportunities for research, advocacy, and professional development in traditional, non-traditional, and emerging areas of children and youth studies.
What Can I Do With a Children and Youth Studies Degree?
Our program provides a holistic interdisciplinary perspective of issues concerning children and youth. We offer a broad range of courses that examines up to date topics affecting children and youth within the context of the family, school, peer groups, and community, as well as a national and global perspective. Our program provides the academic foundation and career focus necessary to pursue a wide variety of professions working directly or indirectly with children and youth.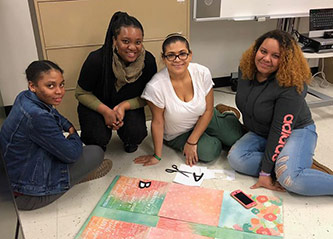 Children First Club
Interested in advocating for children and youth? Join the Children First Club!
The mission of the Children First Club (CFC) is to turn ideas into action for BC students who are interested in advocating for and/or working with children and youth.
"As a member of the CFC, we were able to spread awareness on issues affecting children and youth on a national and international level, like hosting a fundraiser to support relief efforts such as Save the Children. In collaborating with other clubs like S.O.F.E.D.U.P., I was able to develop my leadership, organization, and communication skills which I am able to use now as a Program Coordinator."
-Jennifer DeLaCruz (pictured in white), Executive Board Member, CHST Spring '18 Graduate
Contact Information
Director: Katherine Hejtmanek

Location: 1304 James Hall
Phone: 718.951.3192
Fax: 718.677.6154