Student Center Charles Whipple Award
Brooklyn College Student Center Presents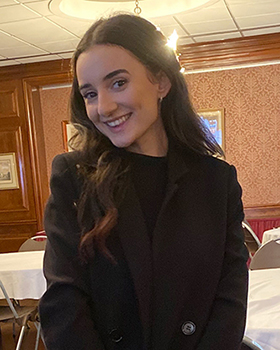 Mary Halabani, Junior
Recipient of the Student Center's 2020 Charles Whipple Award
The Brooklyn College Student Center Charles Whipple Award is presented in honor of the first director, Charles Whipple, whose dedication to the students at Brooklyn College can only be matched by the level of detail and hard work he undertook in order to help create a space for students to occupy in between or after classes from 1962 and onward.
A monetary award will be presented to a student (undergraduate or graduate) who has demonstrated outstanding commitment to the Student Center, and to his or her community, touching the lives of others in a positive way for years to come.
The student recipient must meet all eligibility requirements and submit a completed application for the award, which will be reviewed by Student Center staff members who are a part of the Award Selection Committee.
Eligibility Requirements
All applicants must be currently enrolled as a Brooklyn College student.
Applicants must have a minimum grade point average of 3.00 at the time of application.
Applicants must have completed at least one semester at Brooklyn College.
Application Process
Fill out the application completely.
Sign and date the application.
Incomplete applications will not be considered.
Application Deadline
Applicants must complete application process and submit applications by midnight, May 8, 2020.
Stay tuned for the announcement of the winner in May!