Facilities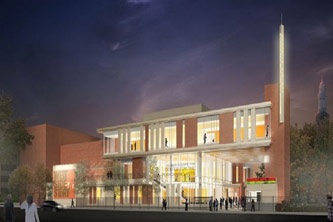 The BC-CCM has an array of facilities to serve its users.
Feirstein School Facilities
In August 2015, Brooklyn College opened the Feirstein Graduate School of Cinema, housed in a brand-new 68,000-square-foot facility. The BC-CCM, and in particular the M.F.A. programs in media scoring and sonic arts, will make use of these spaces regularly. In addition to classrooms, production and post-production spaces, and a screening room, the Feirstein School features a recording studio with a live room large enough to sit a 25-person ensemble and a generously sized Foley stage in a room.
Leonard & Claire Tow Center for the Performing Arts
Positioned as a new gateway to the main campus, the Leonard & Claire Tow Center for the Performing Arts at Brooklyn College includes a concert hall, recording studio, dozens of practice rooms, a multimedia classroom/performance space, and post-production studios. The recording studio has its own live room, overlooks the concert hall, and has direct audio ties to all the other performance spaces in the building.
Current Facilities
The current center includes several locations for its activities:
A multi-workstation lab/classroom equipped with iMacs, composition software, MIDI keyboards, printers, LCD projector, "smart board," and 5.1 Genelec sound system.
A recording studio equipped with multi-track digital recording hardware and software (Pro Tools), with mixdown capabilities, including variety of high-quality microphones, mixers, and digital audio workstations with professional-quality signal processing software and massive hard disk storage. The studio includes a control room linked to a medium-sized room for solo and chamber music recordings.
An advanced user composition/production/electronics studio with video projection, which is large enough for rehearsals and surround-sound listening, with access to electronic components and soldering irons for construction of hardware projects.
A 16-seat MIDI piano lab for music notation, aural skills training, keyboard practice and composition.
Performance Spaces
We have both a 160-seat recital hall and a 2,400-seat auditorium for major productions. The new center will give us an additional 225-seat concert hall with eight-channel sound and several other hybrid reherasal/performance spaces.
Software and Hardware
The BC-CCM promotes musical and interdisciplinary projects using a variety of computer software. Applications include Pro Tools, Native Instruments Komplete, Max/MSP, Vienna Symphonic Library, GRM Tools, Pure Data, Audacity, Sibelius, Melodyne, Spear, Supercollider, Ableton Live, PWGL, OpenMusic, and others. If a specific application that the center does not own is desired by a contingent of CCM denizens, studio staff will pursue its acquisition.
Hardware includes equipment for studio composition and production as well as live performance, including a Yamaha Disklavier, two Moog Etherwave theremins, a Pittsburgh Modular analog synthesizer, and a Make Noise Shared System modular analog synthesizer.