Facilities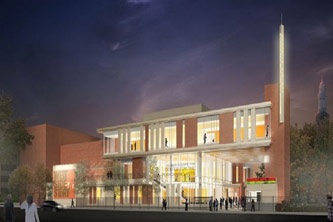 Currently, the BC-CCM is housed primarily in Roosevelt Hall on the campus of Brooklyn College.
Leonard & Claire Tow Center for the Performing Arts
In summer 2011, construction began on the new Leonard & Claire Tow Center for the Performing Arts at Brooklyn College, which will include new state-of-theart facilities for the BC-CCM. 
Current Facilities
The current center includes several locations for its activities:
A 16-seat MIDI piano lab for music notation, aural skills training, keyboard practice and composition.
A multi-workstation lab/classroom equipped with iMacs, composition software, MIDI keyboards, printers, LCD projector, "smart board," and stereo Genelec sound system.
A recording studio equipped with multi-track digital recording hardware and software (Pro Tools), with mixdown capabilities, including variety of high-quality microphones, mixers, and digital audio workstations with professional-quality signal processing software and massive hard disk storage. The studio includes a control room linked to a medium-sized room for solo and chamber music recordings.
An advanced user composition/production/electronics studio with video projection, which is large enough for rehearsals and surround-sound listening, with access to electronic components and soldering irons for construction of hardware projects.
Performance Spaces
We have both  a 160-seat recital hall and a 2,400-seat auditorium for major productions.
Software and Hardware
The BC-CCM promotes musical and interdisciplinary projects using a variety of computer software. Applications include Pro Tools, Max/MSP, GRM Tools, Pure Data, Audacity, Sibelius, Melodyne, Spear, Supercollider, Ableton Live, PWGL, OpenMusic and others. If a specific application that the center does not own is desired by a contingent of CCM denizens, studio staff will pursue its acquisition.
Hardware includes equipment for studio composition and production as well as live performance. Current plans include acquisition of a modular analog synthesizer system.