2022 Annual Lecture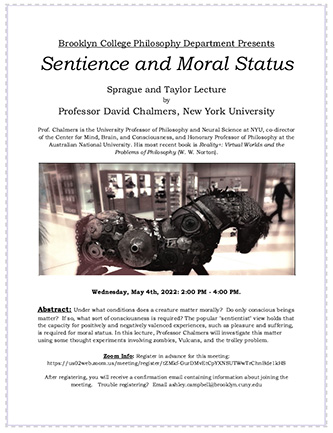 Sentience and Moral Status
with Professor David Chalmers, New York University
Wednesday, May 4, 2022
2-4 p.m.
Register via Zoom (After registering, you will receive a confirmation email containing information about joining the meeting.)
Under what conditions does a creature matter morally? Do only conscious beings matter? If so, what sort of consciousness is required? The popular "sentientist" view holds that the capacity for positively and negatively valenced experiences, such as pleasure and suffering, is required for moral status. In this lecture, Professor Chalmers will investigate this matter using some thought experiments involving zombies, Vulcans, and the trolley problem.
Prof. Chalmers is the University Professor of Philosophy and Neural Science at NYU, co-director of the Center for Mind, Brain, and Consciousness, and Honorary Professor of Philosophy at the Australian National University. His most recent book is Reality+: Virtual Worlds and the Problems of Philosophy (W. W. Norton).
More Information