Student Spotlight - Vincent Andreassi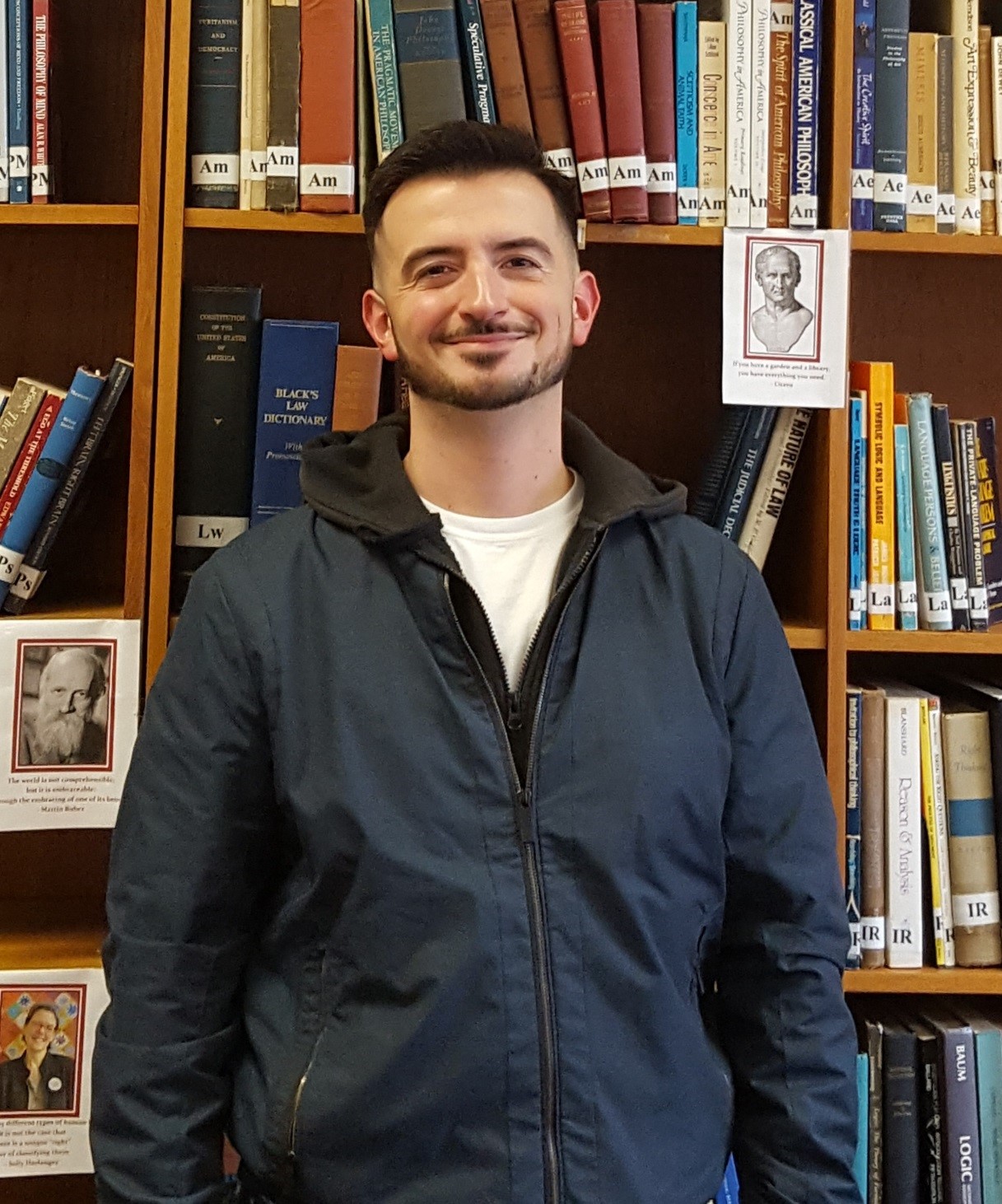 Q: What is your current class standing and anticipated graduation date?
I am a second-degree student, likely to graduate in the spring 2021 semester.
Q: What are your major(s) and/or minor(s)?
Last semester, I completed my philosophy major. Currently, I am a linguistics major and am contemplating choosing between physics or computer science for a double major. I am also a double minor in cognitive science and neuroscience.
Q: Why did you choose to become a philosophy major?
I have been interested in the "big questions" since childhood and even took a couple of courses at Kingsborough. I remember being intrigued by Plato's Five Dialogues and Descartes' Meditations. When I came to Brooklyn College, I took Philosophy of Biology with Professor Menser and Inductive Logic with Professor Moore, and I was hooked. I developed a romantic view of philosophy as the wellspring of human knowledge. One day during class, I heard Professor Moore say, "I remember finding out as a younger man that the proof for one plus one equaling two was 30 pages long and thinking to myself, 'Any field that insane, I absolutely have to be a part of.'" I agreed.
Q: What are your goals for the future? Do you have plans to attend graduate school, or do you have a career in mind upon graduation? What type of career are you seeking upon graduation?
I have been in fitness my whole working life; I am looking for a career change to something I am more passionate about. I will be applying to graduate school, hoping to find a place in academia one day as a professor. Knowing how difficult that is, backup plans exist, of course.
Q: What are your interests in philosophy?
We could be here a while: philosophy of mind, psychology, language, logic, time, physics, science, AI, neurophilosophy, ethics, and free will.
Q: Who are your favorite philosophers?
Socrates, Plato, Aristotle, Kant, Descartes, Hume, and Russell have been among the most influential to me.
Q: Do you have a favorite quote by a philosopher?
"In a word, human life is more governed by fortune than by reason; is to be regarded more as a dull pastime than as a serious occupation; and is more influenced by particular humor, than by general principles. Shall we engage ourselves in it with passion and anxiety? It is not worthy of so much concern. Shall we be indifferent about what happens? We lose all the pleasure of the game by our phlegm and carelessness. While we are reasoning concerning life, life is gone; and death, though 'perhaps' they receive him differently, yet treats alike the fool and the philosopher. To reduce life to exact rule and method, is commonly a painful, oft a fruitless occupation: And is it not also a proof, that we overvalue the prize for which we contend? Even to reason so carefully concerning it, and to fix with accuracy its just idea, would be overvaluing it, were it not that, to some tempers, this occupation is one of the most amusing, in which life could possibly be employed"—David Hume "The Sceptic," from Essays, Moral and Political (1742).
Q: What is your favorite book in philosophy?
I cannot honestly say that I have one, but I am fond of The Republic as a great work.
Q: What are one or two fun facts about you?
I can sing, and have done so in studio and in front of a fairly sizable number of people on a number of occasions. Some of those songs might even still be for sale.
I can trace ancestry on my mother's side directly to Michelangelo. Not the turtle.