Student Spotlight - Drea Bulding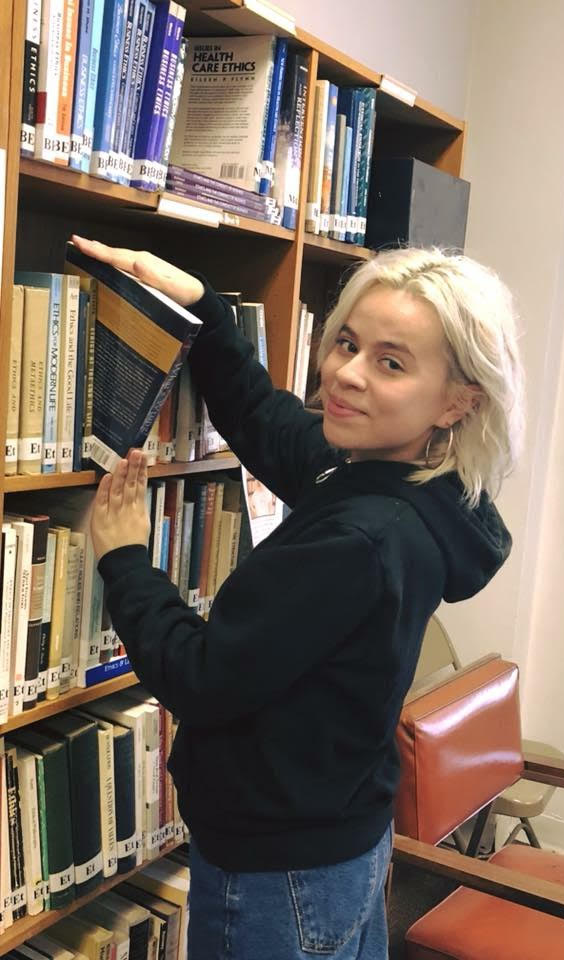 Q: What is your current class standing and anticipated graduation date?
I am an upper senior and I will (hopefully) be graduating this semester (spring 2018).
Q: What are your major(s) and/or minor(s)?
I am a communications major and a philosophy minor.
Q: Why did you choose your major(s)/minor(s)?
Communications was a way for me to address various fields, like law, history, art, philosophy, and marketing, under a common lens that best fit where I see my career goals going.
Q: What are your goals for the future? Do you have plans to attend graduate school or do you have a career in mind upon graduation?
My dream is to create a platform for local artists/musicians/creatives that help them gain exposure in a competitive field. I would also like to apply to graduate school and to study art and business.
Q: What are your interests in philosophy?
I have always been interested in how we perceive things. It sounds general, but an example would be how words have no meaning until we designate different meanings for them. I am also interested in ethics, language, and how we hold value judgments about things related to the art world.
Q: Do you have a favorite quote by a philosopher?
"God is dead! He remains dead! And we killed him!"—Friedrich Nietzsche. I just love it!
Q: What is your favorite book in philosophy?
The Awakening, by Kate Chopin
Q: Have you had any recent accomplishments such as conferences you attended/presented at, awards/scholarships you have received, contests you have won, publications you have made, and so forth?
I studied philosophy last semester in Barcelona. I am a member of the Roy L. Furman Fellows Program. I won the first annual philosophy department scavenger hunt.
Q: What are one or two fun facts about you?
I have no doppelgängers. If you see one, it's one of my other personalities! I intern for a really cool booking agency/music venue called Popgun Presents and Elsewhere in Bushwick. I am a co-founder of a new art/party/music collective called Masterhouse Kitchen. I'm currently making a photo book for it; stay tuned!