Archive
Waiting (Spring 2021)
A series of events in Spring 2021 As we wait for the vaccine and the end of the pandemic.
Wednesday, February 24 - On Waiting in The Decameron…and Medieval Literature
The Decameron: Prof. David Brodsky (Judaic Studies), Prof. Kimberly Chopin (Education/University College Copenhagen), Dr. Elizabeth Weinberg (The Austin Riggs Center), Prof. Louisa Burnham (History/Middlebury College), Andrew Nagel (Jewish Theological Seminary), Annie Pforzheimer (Center for Strategic and International Studies)
Medieval Literature: Prof. Nicola Masciandaro (English)
Friday, February 26 - Waiting for a Reckoning?: Issues in Contemporary American Religion
Prof. Donna Lee Granville (Sociology)
Prof. Timothy Shortell (Sociology)
Prof. Jean Eddy St. Paul (Sociology)
Wednesday, March 10 - Patience, American Religion, and Racial Justice
Prof. Brian Sowers (Classics)
Prof. Jeanne Theoharis (Political Science)
Wednesday, April 14 - On Ecology, Animals, and Eschatology
Prof. Andrew Arlig (Philosophy)
Prof. Karl Steel (English)
Monday, April 19 - An As of Yet Untitled Performance/Lecture About Waiting…(you'll have to wait for it)
Dr. Brandon Woolf, Theater Maker/NYU Professor
Wednesday, May 5 - You Can't Hurry Love: Medieval Christian Devotion
Prof. Christina Van Dyke (Philosophy/Calvin College)
Prof. Lauren Mancia (History)
Fall 2020
Tuesday, September 22 - Thinking Within the Lines: Some Medieval Islamic Views on Permissible and Heretical Interpretations of Scripture
Andrew Arlig, Department of Philosophy/Studies in Religion, Brooklyn College
Co-Sponsored with LAMEM
Thursday, October 8 - Shimmering Contraries: Medieval Grammar and the Rise of Race and Racism
Prof. Cord Whitaker, English, Wellesley College
Co-sponsored by Africana Studies, Judaic Studies, Classics, History, Studies in Religion, The Wolfe Institute, LAMEM, and the School of Humanities and Social Sciences
Monday, November 9 - Bodies Besieged: Early Modern Plague Literature and The Destruction of Jerusalem
Vanita Neelakanta, Department of English, Rider University
Co-Sponsored with LAMEM
Monday, November 23 - Caste: The Origins of our Discontents (by Isabel Wilkerson) in Historical Perspective - A Panel Discussion
Prof. Swapna Banerjee, Department of History; Benjamin Fleming, Studies in Religion; Gunja SenGupta, Department of History; Karen Stern, Department of History
Co-Sponsored with History
Monday, November 23 - Monks Learning to be Priests: Bodies, Texts, and Educational Boundaries in the Twelfth Century
Jay Diehl, Department of History, Long Island University
Co-Sponsored with LAMEM
Thursday, December 3 - Not Even Past: Salvation History in the Philosophy and Theology of Race
Sameer Yadav, Religious Studies, Westmont College
Co-sponsored by Studies in Religion and the Department of Philosophy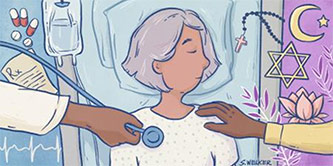 2019
So You Want to Be a Doctor?
Are you pre-med? Give yourself the edge by studying religion!
A panel on how a dual-major or minor in religion can help you in your pursuit of a career in medicine.
March 5, 2019
12:15–2:15 p.m.
Maroon Room, Student Center
Free pizza!
Panelists
Ezra Gabbay, M.D.  (Assistant Professor of Medicine and Associate Clinical Ethicist, Weill-Cornell Medical College)
Katrina Karkazis, Ph.D., M.P.H. (Senior Research Fellow, Global Health Justice League, Yale; Zicklin Chair, Brooklyn College)
Christine Vitrano, Ph.D. (Philosophy, Brooklyn College; Former Ethics Fellow, Mount Siani School of Medicine)
Elizabeth Reis, Ph.D. (Macaulay Honors College; Ethics Committee, New York–Presbyterian Weill Cornell Hospital)
Ana Gotlieb, Ph.D., J.D. (Philosophy, Brooklyn College; Co-chair, CUNY Consortium for Bioethics)
Avi Toiv, M.D. to be (pre-med student and soon-to-be CUNY B.A./Brooklyn College alumnus)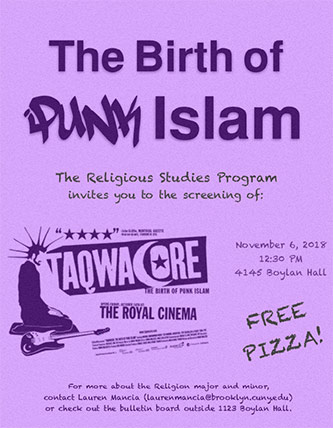 2018
The Birth of Punk Islam
The Studies in Religion Program invites you to a screening of the movie The Birth of Punk Islam.
November 6, 2018
12:30–2 p.m.
4145 Boylan Hall
Free pizza!