Archive
Fall 2021
Friday, September 10, 2 p.m.
Religion Program Meet and Greet
Students, Faculty, Prospective Students welcome!
Prof. Andrew Arlig (Philosophy)
Prof. Brian Sowers (Classics)
Prof. Lauren Mancia (History)
Prof. Namita Manohar (Sociology)
Lisa Schwebel, and more!
Friday, October 22, 2-3:30 p.m.
Time and Temporality in Quran's "Ashab al-Kahf": An inquiry of modern Tafsir in South Asia through Manazir Ahsan Gilani's interpretation
Arooj Alam (BC Alumna!, Graduate Center M.A. '21, now Ph.D. student)
Prof. Andrew Arlig (Philosophy) responding
It is something of a truism that the Quran's narrative defies modern texts' linear chronology demarcated by definitive beginnings, middles, and ends. Quranic studies specialists have expended considerable effort investigating its narratology, foreign vocabulary, conception of ethics, and transmission history. However, an exploration of time and temporality within the Quran remains a minor concern in the field. To address this lacuna, I investigate how one twentieth-century South Asian alim Manazir Ahsan Gilani (d.1956) grappled with time and temporality in the Ashab al-Kahf story of Chapter 18 of the Quran titled Surat al-Kahf.
I make a modest contribution to Quranic studies, philosophy of religion, Islamic intellectual history, and post-colonial studies by comparing Gilani's Tafsir on this surah with his classical and modern Middle Eastern counterparts. I ask how some Islamic reformers' response, in nineteenth-century South Asia, to modernity's challenges, later influenced Gilani's interpretation of this surah? Specifically, how did the rise of scientism within the South Asian Tafsir tradition genre shaped Gilani's subjectivities and sensibilities? In what ways was Gilani resisting against the pervasive influence of modern, capitalistic, and homogenous time? Most importantly, why did Gilani reinterpret this story's significance as a protection against the arrival of al-Masih al-Dajjal?
Friday, December 3, 3 p.m.
Studies in Contemporary Religion Panel
Prof. Namita Manohar (Sociology)
Prof. Louis Fishman (History)
Prof. Curtis Hardin (Psychology)
Waiting (Spring 2021)
A series of events in Spring 2021 As we wait for the vaccine and the end of the pandemic.
Wednesday, February 24 - On Waiting in The Decameron…and Medieval Literature
The Decameron: Prof. David Brodsky (Judaic Studies), Prof. Kimberly Chopin (Education/University College Copenhagen), Dr. Elizabeth Weinberg (The Austin Riggs Center), Prof. Louisa Burnham (History/Middlebury College), Andrew Nagel (Jewish Theological Seminary), Annie Pforzheimer (Center for Strategic and International Studies)
Medieval Literature: Prof. Nicola Masciandaro (English)
Friday, February 26 - Waiting for a Reckoning?: Issues in Contemporary American Religion
Prof. Donna Lee Granville (Sociology)
Prof. Timothy Shortell (Sociology)
Prof. Jean Eddy St. Paul (Sociology)
Wednesday, March 10 - Patience, American Religion, and Racial Justice
Prof. Brian Sowers (Classics)
Prof. Jeanne Theoharis (Political Science)
Wednesday, April 14 - On Ecology, Animals, and Eschatology
Prof. Andrew Arlig (Philosophy)
Prof. Karl Steel (English)
Monday, April 19 - An As of Yet Untitled Performance/Lecture About Waiting…(you'll have to wait for it)
Dr. Brandon Woolf, Theater Maker/NYU Professor
Wednesday, May 5 - You Can't Hurry Love: Medieval Christian Devotion
Prof. Christina Van Dyke (Philosophy/Calvin College)
Prof. Lauren Mancia (History)
Fall 2020
Tuesday, September 22 - Thinking Within the Lines: Some Medieval Islamic Views on Permissible and Heretical Interpretations of Scripture
Andrew Arlig, Department of Philosophy/Studies in Religion, Brooklyn College
Co-Sponsored with LAMEM
Thursday, October 8 - Shimmering Contraries: Medieval Grammar and the Rise of Race and Racism
Prof. Cord Whitaker, English, Wellesley College
Co-sponsored by Africana Studies, Judaic Studies, Classics, History, Studies in Religion, The Wolfe Institute, LAMEM, and the School of Humanities and Social Sciences
Monday, November 9 - Bodies Besieged: Early Modern Plague Literature and The Destruction of Jerusalem
Vanita Neelakanta, Department of English, Rider University
Co-Sponsored with LAMEM
Monday, November 23 - Caste: The Origins of our Discontents (by Isabel Wilkerson) in Historical Perspective - A Panel Discussion
Prof. Swapna Banerjee, Department of History; Benjamin Fleming, Studies in Religion; Gunja SenGupta, Department of History; Karen Stern, Department of History
Co-Sponsored with History
Monday, November 23 - Monks Learning to be Priests: Bodies, Texts, and Educational Boundaries in the Twelfth Century
Jay Diehl, Department of History, Long Island University
Co-Sponsored with LAMEM
Thursday, December 3 - Not Even Past: Salvation History in the Philosophy and Theology of Race
Sameer Yadav, Religious Studies, Westmont College
Co-sponsored by Studies in Religion and the Department of Philosophy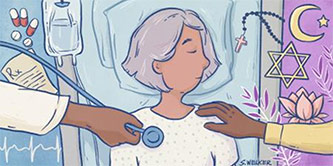 2019
So You Want to Be a Doctor?
Are you pre-med? Give yourself the edge by studying religion!
A panel on how a dual-major or minor in religion can help you in your pursuit of a career in medicine.
March 5, 2019
12:15–2:15 p.m.
Maroon Room, Student Center
Free pizza!
Panelists
Ezra Gabbay, M.D.  (Assistant Professor of Medicine and Associate Clinical Ethicist, Weill-Cornell Medical College)
Katrina Karkazis, Ph.D., M.P.H. (Senior Research Fellow, Global Health Justice League, Yale; Zicklin Chair, Brooklyn College)
Christine Vitrano, Ph.D. (Philosophy, Brooklyn College; Former Ethics Fellow, Mount Siani School of Medicine)
Elizabeth Reis, Ph.D. (Macaulay Honors College; Ethics Committee, New York–Presbyterian Weill Cornell Hospital)
Ana Gotlieb, Ph.D., J.D. (Philosophy, Brooklyn College; Co-chair, CUNY Consortium for Bioethics)
Avi Toiv, M.D. to be (pre-med student and soon-to-be CUNY B.A./Brooklyn College alumnus)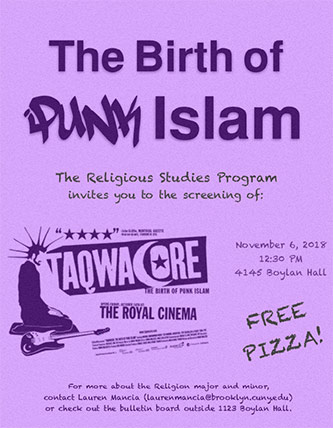 2018
The Birth of Punk Islam
The Studies in Religion Program invites you to a screening of the movie The Birth of Punk Islam.
November 6, 2018
12:30–2 p.m.
4145 Boylan Hall
Free pizza!