Archive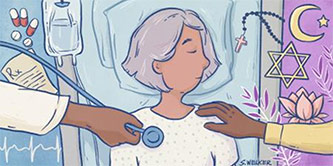 So You Want to Be a Doctor?
Are you pre-med? Give yourself the edge by studying religion!
A panel on how a dual-major or minor in religion can help you in your pursuit of a career in medicine.
March 5, 2019
12:15–2:15 p.m.
Maroon Room, Student Center
Free pizza!
Panelists
Ezra Gabbay, M.D.  (Assistant Professor of Medicine and Associate Clinical Ethicist, Weill-Cornell Medical College)
Katrina Karkazis, Ph.D., M.P.H. (Senior Research Fellow, Global Health Justice League, Yale; Zicklin Chair, Brooklyn College)
Christine Vitrano, Ph.D. (Philosophy, Brooklyn College; Former Ethics Fellow, Mount Siani School of Medicine)
Elizabeth Reis, Ph.D. (Macaulay Honors College; Ethics Committee, New York–Presbyterian Weill Cornell Hospital)
Ana Gotlieb, Ph.D., J.D. (Philosophy, Brooklyn College; Co-chair, CUNY Consortium for Bioethics)
Avi Toiv, M.D. to be (pre-med student and soon-to-be CUNY B.A./Brooklyn College alumnus)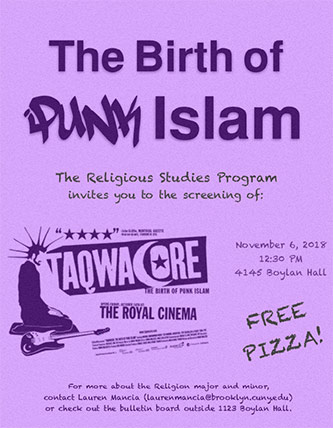 The Birth of Punk Islam
The Studies in Religion Program invites you to a screening of the movie The Birth of Punk Islam.
November 6, 2018
12:30–2 p.m.
4145 Boylan Hall
Free pizza!