Meet Galilea: A VERGE 2020 Emerging Leader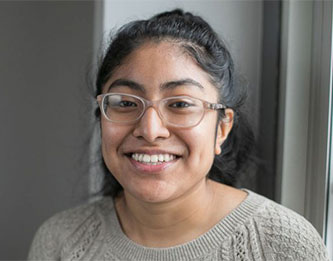 Congratulations to Galilea Matias for being selected as an Emerging Leader for VERGE 2020, a leading platform for accelerating the movement toward a clean economy by electrifying and decarbonizing our world, equitably and profitably. Momentum is building as businesses and governments transform their organizations to be more efficient and resilient. Nearly 10,000 leaders participated in this year's event regarding advancing systemic solutions to address the climate crisis through five key markets: clean energy, electrified transportation, the circular economy, carbon removal and sustainable food systems.
Galilea Matias is a senior at Brooklyn College aiming to explore the intersectionality of different sectors within the Sustainability realm. She is interested in sustainable development, specifically green infrastructure has experience in the energy, food and water sector. Her interest in sustainability stems from the idea that "the people who do the least to contribute to climate change are the most affected by it." She is currently an Urban Sustainability major concentrating in Economics and Business Management.
Her involvement in sustainable development reflects upon her passion for melding together the different approaches to Sustainability, specifically within an urban setting. She is currently a youth volunteer at the New York City Department of Parks and Recreation, but has also worked as a Farm Share Site Coordinator at the Corbin Hill Food Project and an Outreach Coordinator for Co-op Power. Last year, she traveled to Mexico via the Tow Undergraduate International Research Stipend in order to investigate water quality in Mexico's poorer neighborhoods, an experience that spurred her to consider further research in sustainability and gained her a job with a local CSA helping to improve nutrition in New York City neighborhoods with less access to fresh farm produce.
Read her feature article in Brooklyn College Magazine: Sustainability and Sustenance for All.