American Music Review
Vol. LI, Issue 1, Fall 2021
Considering Gestural References to Batéy in Performing Axon by Tania León
By Maja Cerar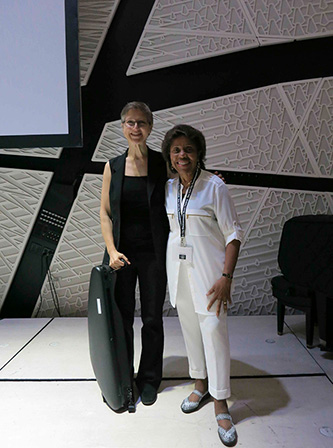 When Tania León set out to compose Axon for violin and interactive computer in 2002, she immediately envisioned the work on two levels.1 The technically demanding violin part, notated in the style of modernist concert music, represents the first level. The second level is an electronics part containing audio samples from recordings of previous compositions by León. Nearly all the samples are from Batéy, a collaborative work for vocal ensemble and percussion by León and Michel Camilo (1989), and at least one is from A La Par for piano and percussion (1986).2
When I asked León in an interview about the relationship between the two levels, she described it as follows: "[When] I wrote Axon, I knew [Batéy] inside out. As I created […] the violin piece, I knew instinctually [sic] where [Batéy] will be able to converse with that piece [Axon]. […] I went through [Axon] like magic, and I knew where each one of [the sound samples] were going to be placed. [...] I worked with both elements: the intellectual and the intuitional. I don't feel so great when I don't allow my intuition to tell me what to do."3
The score to Axon, however, does not mention Batéy, A La Par, or any relationship among the pieces.4 The one-paragraph program note in the score states that in Axon, "pulses and impulses travel and refract away from each other thus creating a sound world of new spectral motivic sound images."5 The audio samples from Batéy and A La Par — their occurrences indicated only by general keywords in the score, such as "congas"— are dramatically different in style from the violin part of Axon, and often appear in jarring juxtaposition with the violin material.
Axon, as its title may suggest, opens avenues of connectivity.6 León says: "[Batéy and Axon] are interrelated. […] [Despite the] contrast, there is an affinity."7 In exploring that affinity, I have found that it resides, among other shared elements, in similar motivic pitch and gestural material by which Axon engages in a process of re-contextualization of moments from Batéy, a process that is part preservation and part renewal and reflection.
Another significant element of Axon that is not explicitly notated in the score is the frequent live processing of the violin's audio signal, which warps the timbre and harmonicity of the violin sound, imparting a distortion of its identity. León conjures affinities between this audio processing and the violin through the use of extended techniques on the violin, which draw it toward the electronic timbral palette.
In Axon, the sampled sounds and audio processing both punctuate and fuel the violin part. The task of a performer crafting an interpretation of Axon thus includes actively devising bridges between the extended technique sounds and the incorporeal electronics, which exert such a significant change of voice or even imply additional voices. However, performing with the unpredictable audio processing is quite unlike rehearsing chamber music with other players and more like training in a kind of sorcery (more on this below).
Leaving a closer examination of pitch organization in Axon to another paper, I will focus on gestural interconnections between Axon and Batéy. This approach delves into elements that are nearly impossible to specify completely in notation, such as the range of possible actualizations of rhythms, emphases, articulations, and, to some degree, pitches and interval sizes in double stops and chords. From this perspective, the performer may explore the potential to evoke connections with Batéy in the violin part, placing performance choices on a continuum between "abstract" and "connotative," which may be re-evaluated at any given point of the piece. As an extension of this idea, in my discussion I will briefly consider the physicality of grouping motives in certain passages into sequences/phrases, where the larger choreography of the piece may help streamline a violinist's bowing and fingering choices.
I will end the essay by considering a dynamic attitude of the performer towards the score, including the electronics. Thinking of attitude as a planned shifting of the performer's state of mind and mode of enactment while playing specific moments of Axon, I will consider how this may also influence one's choices from a palette of techniques and thus open an additional venue of expressively engaging with the electronics.
1. Axon and Batéy

8
Cuban-born Tania León embodies a diverse heritage and a polyglot of cultural expressions in music and language. Her work often bridges variegated musical styles, finding affinities in contrast and creating via synthesis and extrapolation, broadening the expressive potential of styles she has mastered.
Written in 1989 for the Western Wind Vocal Ensemble, Batéy is scored for six singers (two sopranos, one countertenor, two tenors, and one bass) and percussion ensemble (marimba, congas, tom-toms, roto-tom, batá, zurdo, rain stick, chekere, caxixi, maracas, chi, claves, crotales, and cowbell).9
In Batéy10, links are forged between vocalized nonsense-syllables and the languages of Spanish, English, Yoruba, and, according to León, "a Cuban dialect that imitates the dialect of Africanos."11 The lyrics are set to a multitude of styles, paving connections to history, the American Civil Rights Movement, and spiritual realms.
2. The Electronic Part
Axon is dedicated to violinist and composer Mari Kimura, who not only premiered it, but also programmed an original software instrument to make Axon an interactive electroacoustic work.12 For Axon, Kimura created an instrument that filled three roles for the piece: to play pre-recorded sound samples from Batéy and A La Par; to use signal processing algorithms to manipulate the sound of the violin performance as captured by a microphone; and to track the pitch of the violin during performance, so that the software could begin or end some of its own output based on perceiving specific cue pitches.13
3. Performance Choices in Axon
The audio samples in Axon are layered percussive rhythmic patterns, as well as vocal motives and harmonies. In Axon, none of the audio samples from Batéy contain complete words, except "chereku," an invented word that León intends to make a sound like maracas.14 All the vocal samples are incorporated into Axon as sounds without any semantic connotation. In an interview, León encouraged me to "...think of the words as sound, not trying to imagine what the words might mean."15
3.1 Emulating the sound in the samples: Interpreting Axon in light of Sea Tu Nom...
Among the sound samples that occur prominently in Axon is a vocal chord that is set to the word "dream." This is the only word in Batéy that is in English. In Batéy the "dream" chord concludes an a cappella segment titled "Sea Tu Nom..." Aside from "dream," this section only uses text fragments in a language of León's invention. León explains, "At the end of Sea Tu Nom it is as if I have a dream. And that is actually thinking of Martin Luther King."16 In Axon, the word "dream" is rendered indecipherable by the electronic processing. The chord appears several times near the end of the piece, where a copy of it transposed up a major sixth is superimposed onto it. This latter version of the sample concludes the piece (m. 178).17