American Music Review
Vol. LI, Issue 1, Fall 2021
Postscript
By Nancy Hager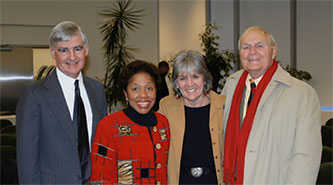 Question: what do you call an Energizer Bunny musician? Answer: Tania León. What Tania has achieved in the fifty years since she arrived in New York from Cuba is simply staggering. Her compositions have been performed all over the world. Some were composed on commission from the New York Philharmonic, Los Angeles Philharmonic, Kennedy Center, Orpheus Chamber Orchestra, and Dance Theatre of Harlem. Prestigious orchestras in Germany, Switzerland, England, Spain, Mexico, and South Africa have engaged her as guest conductor. She is a member of the American Academy of Arts and Letters, serves on the Boards of the New York Philharmonic, ASCAP and the MacDowell Colony, and won the 2021 Pulitzer Prize in music.
What is less widely known is Tania's work as an educator and advocate for the arts. She is the founder and artistic director of Composers Now, which champions the music of living composers. For over thirty years she taught composition at Brooklyn College, from first semester undergrads to graduate students completing a thesis composition. She had a reputation for having a no-nonsense but caring approach, and for helping students hone their compositional skills as well as get in touch with themselves as creative artists. She once told me that her advice to help a student overcome a creative block was "try parting your hair on the other side." Gentle but effective. In the semesters when Tania led Contempo (the Conservatory's new music ensemble) or conducted the Conservatory Orchestra, performance majors benefited from her broad knowledge of repertory and her interpretive insights. In those contexts, too, she had high expectations and players quickly learned to come prepared to rehearsals.
There was no absence of persuasive evidence when I nominated Tania for appointment as a CUNY Distinguished Professor. But for the sake of full disclosure, I should report an incident I observed when our Energizer Bunny encountered a challenge she could not master, that spring afternoon when we sat on the floor of her office completely defeated by pages of instructions for assembling an Ikea glass-doored book case. A kind passerby came to the rescue.