Student Spotlight - Alex Mendez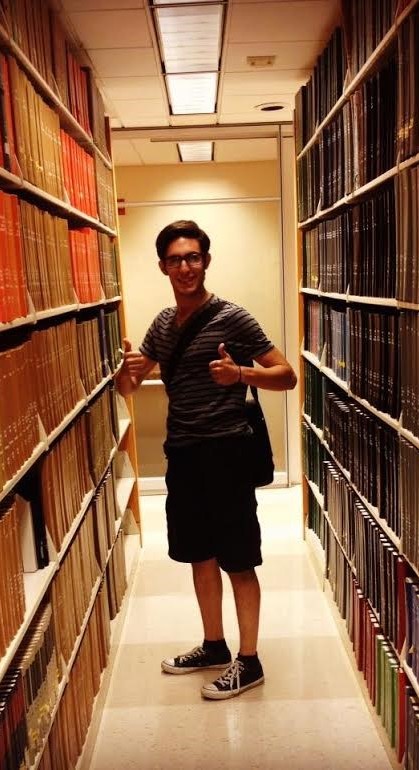 Q: What is your current class standing and anticipated graduation date?
I am a junior, and my anticipated graduation date is spring 2018.
Q: What are your major(s) and/or minor(s)?
I have declared a double major in Philosophy Honors and Political Science.
Q: Why did you choose to become a philosophy major?
Going into college, I knew that I wanted to study philosophy. My love for it started when I was a sophomore in high school with discussions about philosophy with the director of the drama club (of which I was a part). Unfortunately, in most high schools, students know little to nothing about philosophy. It was my curiosity and interest due to the small amount of reading I did starting in 10th grade about the history of philosophy that led me to major in it; while my second interest in politics led me to major in political science.
Q: What are your goals for the future? Do you have plans to attend graduate school or do you have a career in mind upon graduation?
As for after graduation, I plan to continue my education pursuing a Ph.D. in Philosophy. I do not have any particular school or program in mind for this, but with time, I am sure I'll find the one! I'm hoping to be both a writer and professor of philosophy.
Q: What are your interests in philosophy?
So far, I would have to say that my interests within philosophy extend to Metaphysics and Existentialism with a particular interest in the concept and problem of free will.
Q: Do you have a favorite quote by a philosopher?
"I think, therefore I am."—Rene Déscartes. This was the first quote that I had read about in philosophy that really spoke to me. It struck me in a way that the others I read in the beginning didn't. Of course, at the time I was unaware of the profound philosophical bases and implications it had. In spite of this, it resonated with me, and it left a lasting impression on me that, to this day, forces me to question the world.
Q: What is your favorite book in philosophy?
Aristotle's Metaphysics.
Q: What are one or two fun facts about you?
I love the performing arts. In high school, I did a lot of theater, from musicals to plays and monologue competitions. I still continue to do acting and theater outside of the classroom by performing with acting groups and writing plays. In addition to acting, I study dance. I started with ballroom for about four years and extended it to tap, modern, and ballet.