Student Spotlight - Jesi Taylor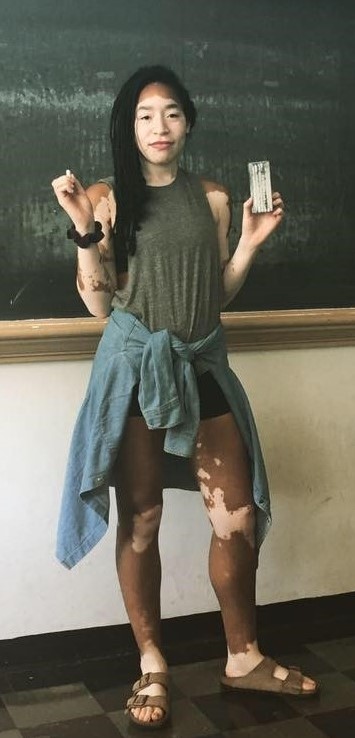 Q: What is your current class standing and anticipated graduation date?
I am a senior anticipating to graduate in spring 2018.
Q: What are your major(s) and/or minor(s)?
I am a CUNY B.A. student studying "The Phenomenology of Structural Violence."
Q: Why did you choose to become a philosophy major?
We are an interesting collection of atoms, and I want to explore everything with an open yet disciplined mind. I also strive to be the change I wish to see in academia by constantly challenging the "Eurocentric masculinist knowledge validation process." I chose to study philosophy, and identify as a philosopher, in order to actively represent the much-needed change in academic philosophy and contribute to various conversations within the discipline to add a new perspective from a queer, black, nonbinary, person in the field.
Q: What are your goals for the future? Do you have plans to attend graduate school or do you have a career in mind upon graduation?
I intend to so public policy and social work while joining the professoriate. After graduating from Brooklyn College, I plan to do graduate work in philosophy (with a secondary field in African American studies) and law (with a concentration in criminal justice) in order to make that possible!
Q: What are your interests in philosophy?
My areas of interest are Political Philosophy, Ancient Greek political thought, Africana Philosophy, Black Existentialism, and Philosophy of Law.
Q: Who are your favorite philosophers?
My primary figures of interest are Aristotle, Ida B. Wells, Tommie Shelby, Rawls, Plato, Max Horkheimer, Sextus Empiricus, Patricia Hill Collins, and bell hooks.
Q: Do you have a favorite quote by a philosopher?
"By skepticism . . . we arrive first at suspension of judgment, and second at freedom from disturbance."—Sextus Empiricus
Q: What is your favorite book in philosophy?
Nichomachean Ethics, by Aristotle.
Q: Have you had any recent accomplishments such as conferences you attended/presented at, awards/scholarships you have received, contests you have won, publications you have made, and so forth?
My article entitled "A Serious Proposal to the Professors" (shoutout to Mary Astell) was published on the APA website. I also presented at a conference this past August; it was on a skeptical reading of book five of Plato's Republic that ultimately led to a denunciation of Plato's alleged progressiveness when it comes to gender equality. A cool accomplishment was winning a dance-off in the Netherlands this past summer.
Q: What are one or two fun facts about you?
I choreograph roller-skating dances on quads. I've watched Reservoir Dogs once a week since 2007—not a joke.