Student Spotlight - Dan Durso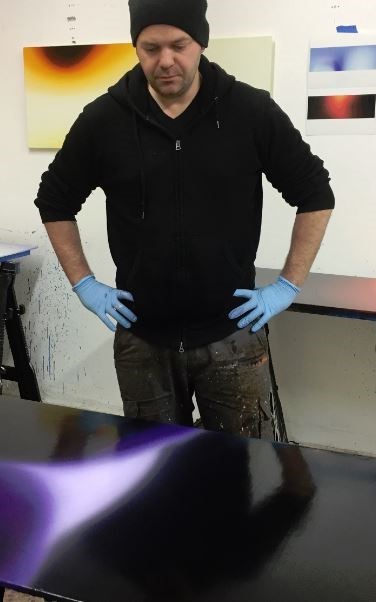 Q: What is your current class standing and anticipated graduation date?
I am currently a senior and I anticipate graduating this spring.
Q: What are your major(s) and/or minor(s)?
I am a philosophy major and a neuroscience minor.
Q: Why did you choose to become a philosophy major?
Returning to school is my midlife crisis (which I think is a pretty good one, better than a sports car at least). I already have two degrees, a B.F.A. and an M.F.A. in the visual arts. I thought my school days were over. I was in the trenches of the New York art world pursuing a career in the visual arts when I picked up a copy of Daniel Dennett's book on atheism, Breaking the Spell. Much of that book is about understanding religion through the application of Darwin's theory of evolution. However, what impressed me was his use of expanding evolutionary principles into understanding human behavior. It occurred to me that the way in which he analyzed the proliferation of religion through an evolutionary lens might also be the way to better understand the nature of art and creative activity. As an artist, I have long wondered why we make art; why some of us have this strong desire to create even when the obstacles and challenges of dedicating oneself to such a craft can be severe. What started as an interest soon turned into an obsession. I found myself reading anything from evolutionary biology to neuroscience and ultimately to philosophy. It became pretty clear, I needed to go back to school and sharpen my tool kit.
Q: What are your goals for the future? Do you have plans to attend graduate school or do you have a career in mind upon graduation?
I intend to pursue graduate study in philosophy. I will be applying to Ph.D. programs next December.
Q: What are your interests in philosophy?
Philosophy of art, philosophy of mind/cognitive science, philosophy of biology.
Q: Who are your favorite philosophers?
David Hume, T.H. Huxley, W.V.O. Quine, Daniel Dennett, Andy Clark, and Noel Carroll.
Q: Do you have a favorite quote by a philosopher?
"But the putting forward, not of detailed and scientifically 'finished' hypotheses, but of schemata for hypotheses, has long been a function of philosophy."―Hillary Putnam, The Nature of Mental States.
Q: What is your favorite book in philosophy?
Darwin's Dangerous Idea, by Daniel C. Dennett.
Q: What are one or two fun facts about you?
I am a visual artist with a studio in Gowanus. I make abstract oil paintings and computer-generated abstract animations.