Awards and Accomplishments
Gertrud Lenzer Founder's Outstanding Senior Award
2021 Recipient 
Urooj Karim, Dillon Kosek, and Rachel Safdieh 
2020 Recipient
Carol Chesney and Jacqueline Rodriguez
2019 Recipient
2018 Recipients
Jennifer DeLaCruz and Samantha Wilson
2017 Recipients
Kadia Dawes and Emily Leong
2016 Recipient
Taisha Aguilar
2015 Recipient
Aksana Samoylov
Judge Bryanne A. Hamill Outstanding Senior Award in Children and Youth Studies
2014 Recipients
Kelly Garcia and Jessica Verkhovsky
2013 Recipient
Jen-I Costosa
2012 Recipient
Perla Tapia
2011 Recipient
Naomi Dambreville
****************************************************************************************************
2021 Special Senior Award Recipients
Fatima Altareb, Rachel Dabah, and Rawan Hanini
2020 Special Senior Award Recipients
Christine Aldea, Daniella Amato, Gino Ancona, Amadou Andre, Zakiyah Joyner, Leslie Ortiz, and Elroy Peters Samuel 
2019 Special Senior Award Recipients
StacyAnn DeSouza and Tatyana Candelaria
2018 Special Senior Award Recipient
Lily Lee
2017 Special Senior Award Recipients
Victoria Martinez and Jennifer Ward
2016 Special Senior Award Recipients
Taralyn Accetta and Monique Charles
2015 Special Senior Award Recipients
Krystal Balmir, Karen Martin, Lisette Mendoza, Kattia Poyau Edwards, and Joniel Thomas
2013 Special Senior Award Recipients
Nathaly Cabral, Otis Gamboa, Pascale Lebrun-Gay, Siham Ouri, and Dagmar Vodrazkova
2012 Special Senior Award Recipients
Gail Andrews, Valentina Bortoc, Jocelyn Griffith, Nicole Johnson, Jeanny Kim, Alla Paradis, Christina Pergolese, Camille Reyes, Keidy Sanchez Mercedes and Ebony Turner
2011 Special Senior Award Recipients
Haneen Abuasi, Stephanie Faison, Samira Kassim, Christiana Nyanteh, Leidy Sosa, Tammea Tyler and Insherah Yafaee 
What Our Graduates Are Doing Now
Cynthia Tsang '10
Cynthia graduated from Columbia University School of Social Work this spring and will begin working at Lutheran Augustana Rehabilitation in July. She is preparing to take the LMSW exam.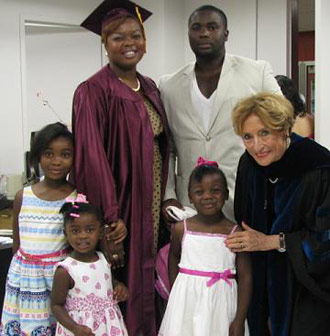 Roy Ben-Moshe '10
Roy interned at the Garden House School as part of CHST 4100: Applied Children's Studies Internship. Upon completion of the internship, Roy was hired by the Garden House School. He currently works at the school as an assistant teacher.
Naomi Dambreville '11
A recipient of the Judge Bryanne A. Hamill Outstanding Senior Award, Naomi is currently finishing her first year in the master's program in general psychology at NYU.
Kizzy Ann Levers '11
Kizzy currently works as a case planner at Catholic Charities East New York Family Support Center.
Leidy Sosa '11
Leidy interned at LosNinos as part of CHST 4100: Applied CS Internship. Upon completion of the internship, Leidy was hired as service coordinator for early intervention at the nonprofit organization.
Tammea Tyler '11
Tammea is finishing her first year at Hunter College Silberman School of Social Work. Tammea is currently working with the chair of the Global Social Work Department to change the program curriculum to give students more access to studying abroad and international service opportunities.
Jeanny Kim '12
Jeanny received a research support assistant position at the Nathan Kline Institute—Emotional Brain Institute Division that will begin this summer.