2021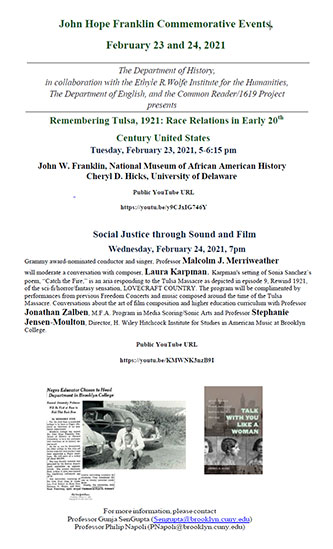 February 23 and 24, 2021
The Department of History, in collaboration with the Ethyle R. Wolfe Institute for the Humanities, the Department of English, and the Common Reader/1619 Project, presents:
Remembering Tulsa, 1921: Race Relations in Early 20th Century United States
Tuesday, February 23, 5–6:15 p.m.
John W. Franklin, National Museum of African American History
Cheryl D. Hicks, University of Delaware
Social Justice Through Sound and Film
Wednesday, February 24, 7 p.m.
Grammy Award–nominated conductor and singer Professor Malcolm J. Merriweather will moderate a conversation with composer Laura Karpman. Karpman's setting of Sonia Sanchez's poem "Catch the Fire" is an aria responding to the Tulsa Massacre as depicted in episode 9, "Rewind 1921," of the sci-fi/horror/fantasy sensation Lovecraft Country. The program will be complemented by performances from previous Freedom Concerts and music composed around the time of the Tulsa Massacre. Conversations about the art of film composition and higher education curriculum will be held with Associate Professor Jonathan Zalben, M.F.A. Program in Media Scoring/Sonic Arts, and Associate Professor Stephanie Jensen-Moulton, director, H. Wiley Hitchcock Institute for Studies in American Music.
More Information
For more information, e-mail Professor Gunja SenGupta or Associate Professor Philip Napoli.
Speaker Bios
John W. Franklin
John W. Franklin is the son of renowned scholar of African-American history John Hope Franklin. He is the co-editor, with his father, of My Life and an Era: The Autobiography of Buck Colbert Franklin. John W. Franklin served as the cultural historian and senior manager in the Office of External Affairs at the Smithsonian's National Museum of African American History and Culture. A former curator at the Smithsonian's Center for Folklife and Cultural Heritage, he developed programs on Africa, the United States, and the Caribbean. He has also organized a range of conferences on African diasporic topics.
Cheryl D. Hicks
Cheryl D. Hicks is an associate professor of Africana studies and history at the University of Delaware. Her research addresses the intersections of race, class, gender, sexuality, and the law. She specializes in late 19th and 20th-century African American and American history as well as urban, gender, and civil rights history. Hicks is the author of Talk With You Like a Woman: African American Women, Justice, and Reform in New York, 1890–1935 (2010), a book that illuminates the voices and viewpoints of black working-class women, especially southern migrants, who were the subjects of urban and penal reform in early 20th-century New York.
Malcolm Merriweather
Malcolm Merriweather, a composer and baritone, enjoys a versatile career with performances ranging from the songs of Margaret Bonds to gems of the symphonic choral repertoire. He can be heard on the Grammy-nominated recording of Paul Moravec's Sanctuary Road (NAXOS). He is music director of New York City's The Dessoff Choirs, known for their performances of great choral works from the pre-Baroque era through the 21st century. He is an associate professor, and director of choral studies and voice department coordinator at Brooklyn College, and the artistic director of Voices of Haiti, a 60-member children's choir in Port-au-Prince, Haiti.
Laura Karpman
Laura Karpman collaborates with the most creative filmmakers of our time, including Misha Green, Steven Spielberg, Alex Gibney, Kasi Lemmons, Rory Kennedy, Sam Pollard, Laura Nix, Eleanor Coppola, Francis Ford Coppola, and Sophia Coppola. The five-time Emmy winner's scores span the HBO hit series Lovecraft Country; 2020 Oscar-nominated Walk Run Cha-Cha; the Discovery Channel docuseries Why We Hate; Miss Virginia; the Netflix romantic comedy Set It Up; Sony's Paris Can Wait; Lionsgate's The Cotton Club Encore; Fox Searchlight's Step and Black Nativity; the drama series Underground; Sony's L.A.'s Finest; Peabody Award–winning series Craft in America; and Showtime's Sid & Judy.
Jonathan Zalben
Jonathan Zalben has written music for films released by HBO, Lionsgate, Discovery, and Sony Pictures Classics. His film music has also screened Sundance, Berlin, SXSW, and Tribeca film festivals. He scored the feature film Flock of Dudes, which was released by Starz, theatrically, and on VOD. Other scores include the Oscar-nominated Redemption as well the HBO documentary There's Something Wrong With Aunt Diane. His music has been heard at Sundance in Morgan Spurlock's The Greatest Movie Ever Sold, Evan Glodell's Bellflower, and Hotel 22, a New York Times op-doc.
Stephanie Jensen-Moulton
Stephanie Jensen-Moulton, associate professor of musicology, has published articles on women in hip-hop, the 19th-century piano prodigy "Blind Tom" Wiggins, Pauline Oliveros, and other topics in American music. She has presented papers and lecture-recitals at national and international conferences, including national meetings of the Society for American Music and the American Musicological Society. She won the Carolyn Heilbrun Prize for her dissertation on Miriam Gideon's 1958 opera Fortunato, which was published by A-R Editions (2013). She is a co-editor of the Oxford Handbook of Music and Disability Studies (2016).