2019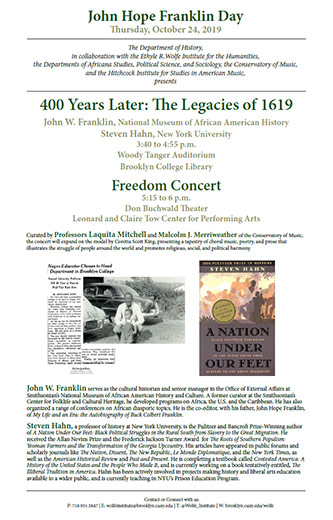 John Hope Franklin Day
Thursday, October 24, 2019
The Department of History, in collaboration with the Ethyle R. Wolfe Institute for the Humanities; the departments of Africana Studies, Political Science, and Sociology; the Conservatory of Music; and the Hitchcock Institute for Studies in American Music, presents
400 Years Later: The Legacies of 1619
with John W. Franklin, National Museum of African American History
with Steven Hahn, New York University
3:40–4:55 p.m.
Woody Tanger Auditorium
Brooklyn College Library
John W. Franklin
John W. Franklin serves as the cultural historian and senior manager in the Office of External Affairs at Smithsonian's National Museum of African American History and Culture. A former curator at the Smithsonian's Center for Folklife and Cultural Heritage, he developed programs on Africa, the United States, and the Caribbean. He has also organized a range of conferences on African diasporic topics. He is the co-editor, with his father, John Hope Franklin, of My Life and an Era: The Autobiography of Buck Colbert Franklin.
Steven Hahn
Steven Hahn, a professor of history at New York University, is the Pulitzer- and Bancroft Prize–winning author of A Nation Under Our Feet: Black Political Struggles in the Rural South from Slavery to the Great Migration. He received the Allan Nevins Prize and the Frederick Jackson Turner Award for The Roots of Southern Populism: Yeoman Farmers and the Transformation of the Georgia Upcountry. His articles have appeared in public forums and scholarly journals like The Nation, Dissent, The New Republic, Le Monde Diplomatique, and The New York Times, as well as the American Historical Review and Past and Present. He is completing a textbook called Contested America: A History of the United States and the People Who Made It and is working on a book tentatively entitled, The Illiberal Tradition in America. Hahn has been actively involved in projects making history and liberal arts education available to a wider public, and is currently teaching in NYU's Prison Education Program.
Freedom Concert
5:15–6 p.m.
Don Buchwald Theater
Leonard & Claire Tow Center for the Performing Arts
The concert will expand on the model by Coretta Scott King, presenting a tapestry of choral music, poetry, and prose that illustrates the struggle of people around the world and promotes religious, social, and political harmony.