2008 Distinguished Guest Speakers
Honorable Bryanne Hamill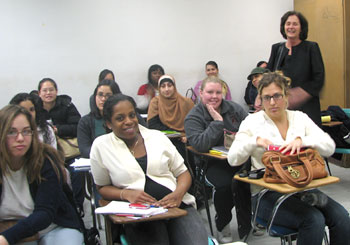 After attending the Children's Studies Second Child Policy Forum of New York on Nov. 16, 2007, the Honorable Bryanne Hamill accepted an invitation as a guest lecturer in the CS 20: Perspectives on Childhood, taught by Professor Gertrud Lenzer.
Hamill visited Lenzer's class on March 12, 2008. The judge discussed her career path to becoming a Family Court judge in Kings County, and led a very interactive discussion on the different aspects of cases that come before her and how the legal system is applied in each case.
Students in Lenzer's course participated in a very lively discussion with Hamill about children and youth and the juvenile justice system in New York City.