Kirill Miachin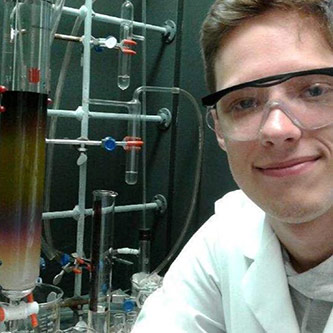 Country
Russia
Major
Chemistry, undergraduate
3.90 cumulative GPA
Seymour Richman Memorial Scholarship for Academic Achievements (2017)
David Davidson Fellowship
Research presenter at the 65th Annual Undergraduate Research Program (2017)
At what age did chemistry become an interest to you?
Long before I came to America, I knew I wanted to become a doctor. Since I was not able to go directly to medical school from high school, majoring in chemistry was the best option for me. In Russia, we start studying chemistry at 13, and it was the natural choice to continue my studies in America. Opportunities started coming, but it wasn't easy.
What was the process behind achieving those scholarships?
I enrolled in the spring 2016 semester and immediately applied for scholarships without any recommendations. As a result, I received no scholarships. After I completed my first semester, I joined a research lab with Professor Maria Contel, the head of the Chemistry Department, and she took me under her wing after I explained my future goals in the medical field. My research in the lab with Professor Contel lasted for over a year. She encouraged me to apply to summer research awards in spring 2017. I did, but the competition is strong in our department, so I had doubts. Those doubts turned to joy when I was nominated for two awards. The second award was for my academic achievements, and I was very proud.
Talk about your experience working in Professor Contel's research lab.
The first experience was very nice and simple. Initially the lab organized a seminar for new undergraduates by Ph.D. students giving us presentations on different lab projects. They displayed their work and the ultimate goals of their research. The world of chemistry comes with obstacles. We do experiments and not all experiments works out the way we think they should, and it can be frustrating at times. For example, you come to the lab and work extremely hard on your experiment and by the end of the day your compounds decompose. I have learned the value of being able to disconnect and not allow stress to overshadow the ultimate goal. 
What are you currently working on now in the research lab?
Currently I am working on two projects involving translational research in chemistry. This type of research can be applied to clinical practice, specifically for chemotherapy drugs. In our lab, we have a synthesized compound that kills cancer cells and leaves healthy cells alive. This is a very good compound and has the potential to become a drug. That's fluorescence chemistry. The second project is called synthetics of anti-cancer chemotherapy drug. It contains two separate metals that focus on different biological targets in the body to create an effect. It is a lot of information, but for me it's important to know every element moving forward.
What are your plans after graduation, and do you see yourself opening your own practice?
After graduation, I will be applying to an M.D./Ph.D. program. As far as opening my own practice in the near future, honestly right now what matters to me is being surrounded by other professionals in the field. But if it happens, then I will be proud.
What advice would you give someone coming into the world of chemistry?
Don't second guess yourself. Figure yourself out first and know if you really want to do this.