Natasha Griffiths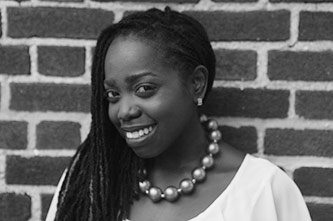 Country
Jamaica
Major
Screenwriting, graduate
3.80 cumulative GPA
Recipient of the CHASE Fund Art & Culture Scholarship
Winner of the 2017 Tow Graduate International Research Stipend
Adjudicator for the Brooklyn College Undergraduate Film Festival (2016–17)
International peer-mentor / cultural ambassador
Did you face any fears in transitioning from Jamaica to America?
I wouldn't classify what I felt as fear. There were anxieties that I had, considering that I was transitioning from an eight-year career to go back to school. When you do that, it does make you a little bit nervous, but I wasnt fearful because I have faith. In terms of cultural transition, to be honest, there aren't stark cultural differences between Jamaica and Brooklyn. Brooklyn has a vast Caribbean population, so it feels a lot like home.
Tell us about your eight-year career before coming to America.
I was/am a high school teacher. It had its challenges, but it also had its great moments. It was just one of those situations where I had a desire and knew that I was being called to do something else. So, I decided to take that leap.
How was the application process for Brooklyn College's Feirstein Graduate program?
The process of getting into Feirstein happened very quickly. When I decided that I needed to step away from my high school teaching career, I didn't know what my next step was going to be. Film school had always been a desire of mine, but at that time I couldn't have afforded it. When I made the decision, the chance at the CHASE Fund Art & Culture Scholarship came up. I found out about the scholarship very late, at which point admissions to all the major New York film schools (NYU, Columbia) were closed. I spoke to my best friend, a Brooklyn College alumna, about it, and she told me about Feirstein. I did my due diligence and found the new school quite appealing, plus admissions were still opened. I applied, and within a week or two I got called for an interview. I told myself that I didn't have anything to lose, and toward the end of the interview, I asked, "What advice do you have for me for when I start the program?" In retrospect, that was a bold question, but they must have seen some potential in me since they accepted me within a week of the interview. Thereafter, I applied for the CHASE Fund scholarship. Thankfully, I got it.
Do people need to train themselves to have thick skin in the film industry?
It is a tough industry for everybody, and it's a particularly tougher industry for black women. So, yes, it's imperative that you have thick skin. It's a difficult industry to break into, but I'm sold on idea that if you have the desire, you persevere, and if it is the will of God, then what you desire will come to fruition. I hear the conversation about how black women have fewer opportunities in the industry. I hear it, but I don't live in it—it's not an excuse for me not succeed. I get super excited when I think of Ava DuVernay, Issa Rae, and all of the black and Caribbean women who are breaking barriers in the film industry.
Do you see yourself as just a screenwriter or a writer in general?
I'm a writer. Going into Feirstein, my expectation was that I would solely write for film. One of the reasons why I'm happy for the experience of being at Feirstein is that they have opened my eyes to other possibilities. Television writing, and to some extent, video-game writing, which were not a part of the initial curriculum, have been infused into the writing program. Now I can envision a career in television writing as well as film writing and maybe even video-game writing.
Feirstein is listening to what the students are saying and they are making calculated adjustments for the overall benefit of the students.
What are you plans after finishing at Feirstein?
My first focus after grad school is to return home and carve out a place for myself in the film industry there. It's budding and thriving but has much further to go, and I want to be a part of the community of filmmakers that is going to take the Jamaican and, by extension, Caribbean film industry to its zenith.