Sobina Chi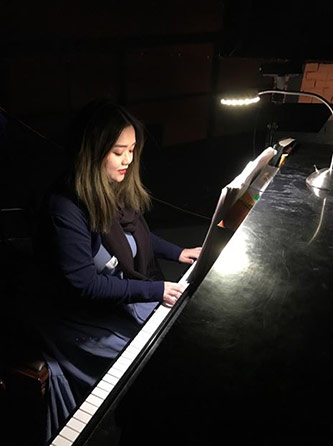 Country
Taiwan
Major
Music performance, graduate
Born and raised in Taiwan, Sobina's determination to master her craft came into full effect when she attended Brooklyn College and studied in the master's in music performance program. By studying with Professor Arturo O'Farrill, four-time Grammy Award nominee and two-time Grammy Award winner, Sobina was able to prove her skills on the stage on and off campus.
Recently, Sobina performed a piece at The Cornel West Concerto event at Brooklyn College, alongside O'Farrill and with Dr. Cornel West present, and at Gracie Mansion for New York City Mayor Bill De Blasio. Sobina's craft continues to grow and more doors have opened for her, with performances at the Duplex Theater, Cabaret Theater (The Wind Walk play), and the Gallery Player 50th Anniversary.
Describe your transition from Taiwan to America.
I wanted to learn more about jazz. Taiwan is wonderful, but we don't really have a lot of access to jazz. New York is the capital city of jazz. So I asked my friend, who finished his master's at Queens College, about the idea, and he said, "Try going to a CUNY school." After I did my research, I came across Brooklyn College's music program. Finally, I proceeded with the transfer application, but it took me about a year to finish. You have to understand, my family was worried about the transition: We're talking New York City! But they understood, and now I'm here. 
How has Brooklyn College been an influence on your networking skills?
Brooklyn College is so great because you're able to meet with different people who come from different backgrounds. This lead me to performing at a couple of venues off-Broadway. The faculty here will definitely help you get your foot in the door, but once you're in, you must work twice as hard to get ahead. New York City is so diverse that getting to know about different cultures will help you enhance your ability to be great in your career field. 
Without Brooklyn College, I don't think I would have been given these great opportunities.