Oleksandr (Alex) Loyko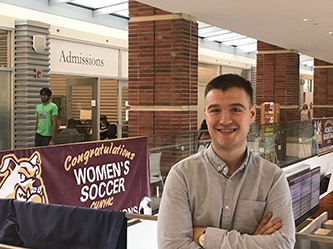 Country
Ukraine
Major
Computer science, undergraduate
3.90 cumulative GPA
Member of the Honors Academy since spring 2015.
Received an Exemplary Academic Performance certificate for the 2014–15 academic year.
Won fifth place at the CUNY Math Challenge in 2016.
Currently interning at the Metropolitan Transportation Authority (MTA)
Tell us about your experience interning at the MTA.
My major is computer science, and to fully get a better understanding about certain programs, you will have to gain more experience by interning. I intern at one of the best tech departments in the Metropolitan Transportation Authority system. Our main focus is to create bus signs for the entire five boroughs in New York. There are plenty of projects that will be coming out, and most of them are OpenSearch based—OpenSearch based being when a company releases and tests out a new program.
Before, I had no experience working with web developers, but now I do. I've been interning with the MTA since February and by the summer, I had a clear idea of how things operate. I started to write more coding for the program, and as of now I can do both back-end and front-end coding.
Would you encourage a student who is interested in studying computer science to go the same route you went or a different route?
Honestly, I don't know. It was a pretty good experience for me. However, there's no guarantee that the internship program will be everlasting for some people. Yes you will learn the skills, but again, it might not be the program you will enjoy the most. There are other fields, such as web development, programming, and game development. However, if you want to enhance your understanding, then I highly recommend looking into internships like the MTA program.
What inspired you to pursue a degree in computer science?
When I was in high school, I really liked technology and I always asked myself, "Wouldn't it be cool to see how those programs come to life?" I do understand that the market changes and programs do fail, but that didn't stop me from wanting to learn more about them.
Tell us about your experience with the web development competition.
The Goldman Sachs–sponsored hackathon was my first competition and my first experience with web development. At that time, I didn't know much about web development at all, but they pretty much invited the computer science majors to witness web development first-hand. I had to learn everything on the spot. The point of those competitions is to test your interest in the industry and to learn something new from professionals.
Where do you see yourself after graduation?
There are pluses and minuses in both big and small companies. What I know for sure is that I'm applying to a bunch of established companies and startup companies. Established companies come with a great salary, while the startup companies require crazy hours because of new project releases. So, we shall see.
Do you see yourself starting your own company?
Absolutely. I want to gain the experience in the real world and then begin my own company, seven to 10 years from now.