Education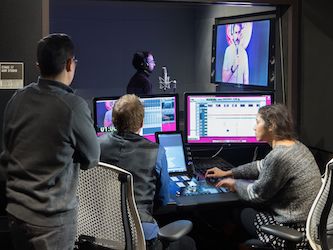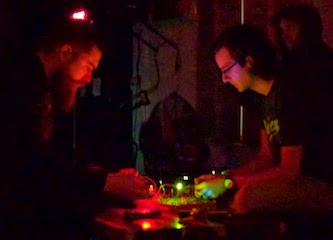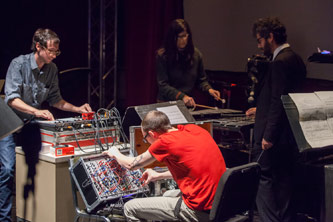 M.F.A. in Media Scoring and M.F.A. in Sonic Arts
Our M.F.A. programs in Media Scoring and Sonic Arts complement our B.Mus. and M.Mus. degrees in music composition, Ph.D. in composition via the CUNY Graduate Center, and undergraduate minor in music technology (see below).
The two M.F.A. degrees balance flexibility and artistic development with practical skills for careers in the media industry, and both are offered as part of the programs of the Feirstein Graduate School of Cinema at Brooklyn College. The Feirstein M.F.A. programs, housed in a new 68,000-square-foot facility on a working film lot (Steiner Studios), offer students opportunities for educational and professional experiences unrivaled at a public university on the East Coast of the United States.
Note that these programs and all others hosted by the Feirstein School of Cinema require added fees to support the technology infrastructure. See the Feirstein website for details.
Follow us on Facebook and Instagram!
Media Scoring
Composition and production of music for moving images.
Courses are held at the Barry R. Feirstein Graduate School of Cinema at Brooklyn College, located at the Steiner Studios, a 15-acre fully professional, Hollywood-style media production lot.
Curriculum includes cinema, composition, conducting, technology, and music business.
The program is open to students with a bachelor's degree in Music or in another subject.
Sonic Arts
Creation of music or sound art using new technologies, from electronic improvisation to electroacoustic music, installations, sound design, and multimedia.
Courses held on the Feirstein Graduate School of Cinema and the Brooklyn College main campus.
Curriculum is a flexible/customizable menu of courses.
The program is open to students with a bachelor's degree in Music or in another subject.
Undergraduate Minor in Music Technology
Undergraduate students at Brooklyn College may earn a minor in music technology by completing 12 credits of approved course work. Contact Professor Doug Cohen for more information.
Additional Degree Programs
Undergraduate Degree and Master's Degree in Music Composition
Interested composers may enroll as a music somposition major at the Brooklyn College Conservatory of Music and focus their creative work on electronic/electroacoustic music while taking advantage of the additional opportunities of the Composition Department. Contact CCM Director Doug Geers for more information.
M.F.A. in Performance and Interactive Media Arts (PIMA)
This is a graduate program for the creation of interdisciplinary, live performance works. PIMA is a collaborative venture in partnership with the departments of Art, Theater, Computer and Information Science, and Television and Radio, and the Conservatory of Music. Contact PIMA Director Helen Richardson for more information.
Ph.D. in Music Composition (via CUNY Graduate Center)
Interested students may admit to the Ph.D. or D.M.A. composition program of the CUNY Graduate Center and become active participants at the BC-CCM. Contact CCM Director Doug Geers for more information.
Individual Classes
In spring 2014, 34 new master's-level courses were added to the BC-CCM offerings as part of the M.F.A. programs in Sonic Arts and Media Scoring. To view the complete list of courses, look under "Courses" on the right side menu of this page.
In spring 2018, undergraduate and M.Mus. courses offered are:
MUSC 3260/7360—Introduction to Music Technology/Fundamentals of Music Technology
MUSC 3261/7362—Electroacoustic Music II
MUSC 3744/7744—Electroacoustic Music Ensemble
In Spring 2018, Media Scoring and Sonic Arts M.F.A. courses* are:
MUSC 7016—Advanced Techniques for Recording Music
MUSC 7352—Orchestration for Cinema II
MUSC 7370—Music Technology for Media 
MUSC 7372 — Computer Music II
MUSC 7374 — Computer-Assisted Composition
MUSC 7378 — Sequencing and Sampling
MUSC 7635—Special Topic, "Advanced Building Electronic Music Instruments"
MUSC 7644X—Analysis of Electroacoustic Music
MUSC 7354X—Scoring for Motion Pictures and New Media
MUSC 7341, 7342, 7343, 7344—Media Scoring Lessons I, II, III, and IV
MUSC 7331, 7332, 7333, 7334—Sonic Arts Composition Lessons I, II, III, and IV
MUSC 7341—Scoring Composition Seminar 
* Beginning in Fall 2018, all media scoring and sonic arts courses will entail payment of Academic Excellence fees that help fund the Music MFA programs. Details on the costs of courses are available upon request.
The PIMA program also offers related courses of interest. More information is available on the PIMA website.