Projects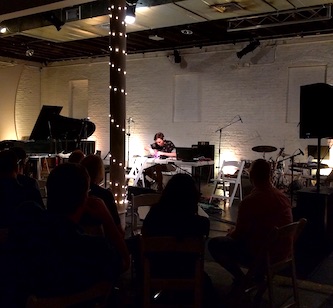 Symposium: Legacies of Pauline Oliveros
On November 3–4, 2017, Brooklyn College will host "Legacies of Pauline Oliveros," a musical and scholarly event intended to honor Oliveros upon the first anniversary of her passing. Call for works and addition information is here.
International Electroacoustic Music Festival (IEAMF)
Every year, composers from New York and around the world gather for the concerts of the International Electroacoustic Music Festival, directed by Professor George Brunner.  In fall 2017, IEAMF will celebrate the life and music of Pauline Oliveros, plus a special concert of music by our own former student and colleague, Nicholas Nelson.
Brooklyn Electronic Ensemble (BEE)
The BC-CCM electroacoustic ensemble, now informally known as BEE, is composed of faculty and students and performs publicly twice or more per semester. Students design their own instruments and are able to compose works for the ensemble.
Guest Artist Series
The BC-CCM brings composers and performers of electronic and computer music to campus several times each semester to discuss their work, often in conjunction with performances. Suggestions for future guests may be submitted to Associate Professor Doug Geers.
Artists-in-Residence
Both PIMA and the BC-CCM host artists-in-residence. For 2010–11, the BC-CCM artist-in-residence was R. Luke Dubois. For 2009–10, the PIMA artists-in-residence was Evidence, a collaborative duo composed of Stephan Moore and Scott Smallwood.
Performances
Each semester students of the BC-CCM and PIMA program present their work to the public, both on and off campus, including performances by the electroacoustic ensemble and by students from our courses. See our news and events page for recent and upcoming performance dates and locations.
Symposium on Electroacoustic Performance (SEMP)
In 2012, the Symposium on Electroacoustic Performance (SEMP) gathered composers and performers together to investigate and discuss innovotive ideas in live performance of music with electronics.