2020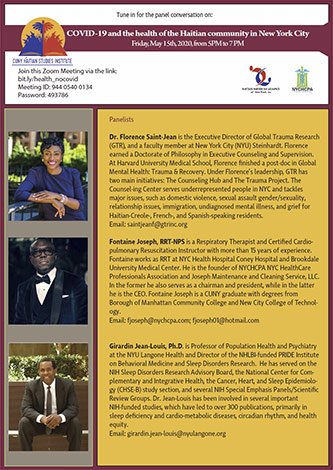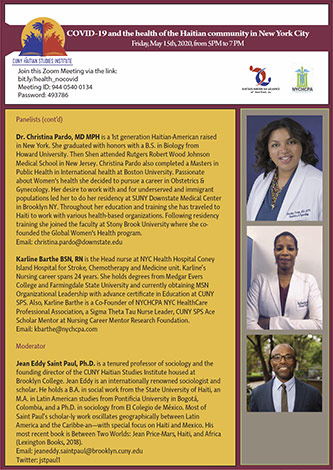 COVID-19 and the Health of the Haitian Community in New York City
Friday, May 15, 2020
5-7 p.m.
Zoom Information
Meeting ID: 944 0540 0134
Password: 493786
Panelists
Dr. Florence Saint-Jean is the Executive Director of Global Trauma Research (GTR), and a faculty member at New York City (NYU) Steinhardt. Florence earned a Doctorate of Philosophy in Executive Counseling and Supervision. At Harvard University Medical School, Florence finished a post-doc in Global Mental Health: Trauma & Recovery. Under Florence's leadership, GTR has two main initiatives: The Counseling Hub and The Trauma Project. The Counsel-ing Center serves underrepresented people in NYC and tackles major issues, such as domestic violence, sexual assault gender/sexuality, relationship issues, immigration, undiagnosed mental illness, and grief for Haitian-Creole-, French-, and Spanish-speaking residents. Email: saintjeanf@gtrinc.org
Fontaine Joseph, RRT-NPS is a Respiratory Therapist and Certified Cardiopulmonary Resuscitation Instructor with more than 15 years of experience. Fontaine works as RRT at NYC Health Hospital Coney Hospital and Brookdale University Medical Center. He is the founder of NYCHCPA NYC HealthCare Professionals Association and Joseph Maintenance and Cleaning Service, LLC. In the former he also serves as a chairman and president, while in the latter he is the CEO. Fontaine Joseph is a CUNY graduate with degrees from Borough of Manhattan Community College and New City College of Technology. Email: fjoseph@nychcpa.com; fjoseph01@hotmail.com
Girardin Jean-Louis, Ph.D. is Professor of Population Health and Psychiatry at the NYU Langone Health and Director of the NHLBI-funded PRIDE Institute on Behavioral Medicine and Sleep Disorders Research. He has served on the NIH Sleep Disorders Research Advisory Board, the National Center for Complementary and Integrative Health, the Cancer, Heart, and Sleep Epidemiology (CHSE-B) study section, and several NIH Special Emphasis Panels/Scientific Review Groups. Dr. Jean-Louis has been involved in several important NIH-funded studies, which have led to over 300 publications, primarily in sleep deficiency and cardio-metabolic diseases, circadian rhythm, and health equity. Email: girardin.jean-louis@nyulangone.org
Dr. Christina Pardo, MD MPH is a 1st generation Haitian-American raised in New York. She graduated with honors with a B.S. in Biology from Howard University. Then Shen attended Rutgers Robert Wood Johnson Medical School in New Jersey. Christina Pardo also completed a Masters in Public Health in International health at Boston University. Passionate about Women's health she decided to pursue a career in Obstetrics & Gynecology. Her desire to work with and for underserved and immigrant populations led her to do her residency at SUNY Downstate Medical Center in Brooklyn NY. Throughout her education and training she has traveled to Haiti to work with various health-based organizations. Following residency training she joined the faculty at Stony Brook University where she cofounded the Global Women's Health program. Email: christina.pardo@downstate.edu
Karline Barthe BSN, RN is the Head nurse at NYC Health Hospital Coney Island Hospital for Stroke, Chemotherapy and Medicine unit. Karline's nursing career spans 24 years. She holds degrees from Medgar Evers College and Farmingdale State University and currently obtaining MSN Organizational Leadership with advance certificate in Education at CUNY SPS. Also, Karline Barthe is a Co-Founder of NYCHCPA NYC HealthCare Professional Association, a Sigma Theta Tau Nurse Leader, CUNY SPS Ace Scholar Mentor at Nursing Career Mentor Research Foundation. Email: kbarthe@nychcpa.com
Moderator
Jean Eddy Saint Paul, Ph.D. is a tenured professor of sociology and the founding director of the CUNY Haitian Studies Institute housed at Brooklyn College. Jean Eddy is an internationally renowned sociologist and scholar. He holds a B.A. in social work from the State University of Haiti, an M.A. in Latin American studies from Pontificia University in Bogotá, Colombia, and a Ph.D. in sociology from El Colegio de México. Most of Saint Paul's scholar-ly work oscillates geographically between Latin America and the Caribbean—with special focus on Haiti and Mexico. His most recent book is Between Two Worlds: Jean Price-Mars, Haiti, and Africa (Lexington Books, 2018). Email: jeaneddy.saintpaul@brooklyn.cuny.edu; Twitter: @jstpaul1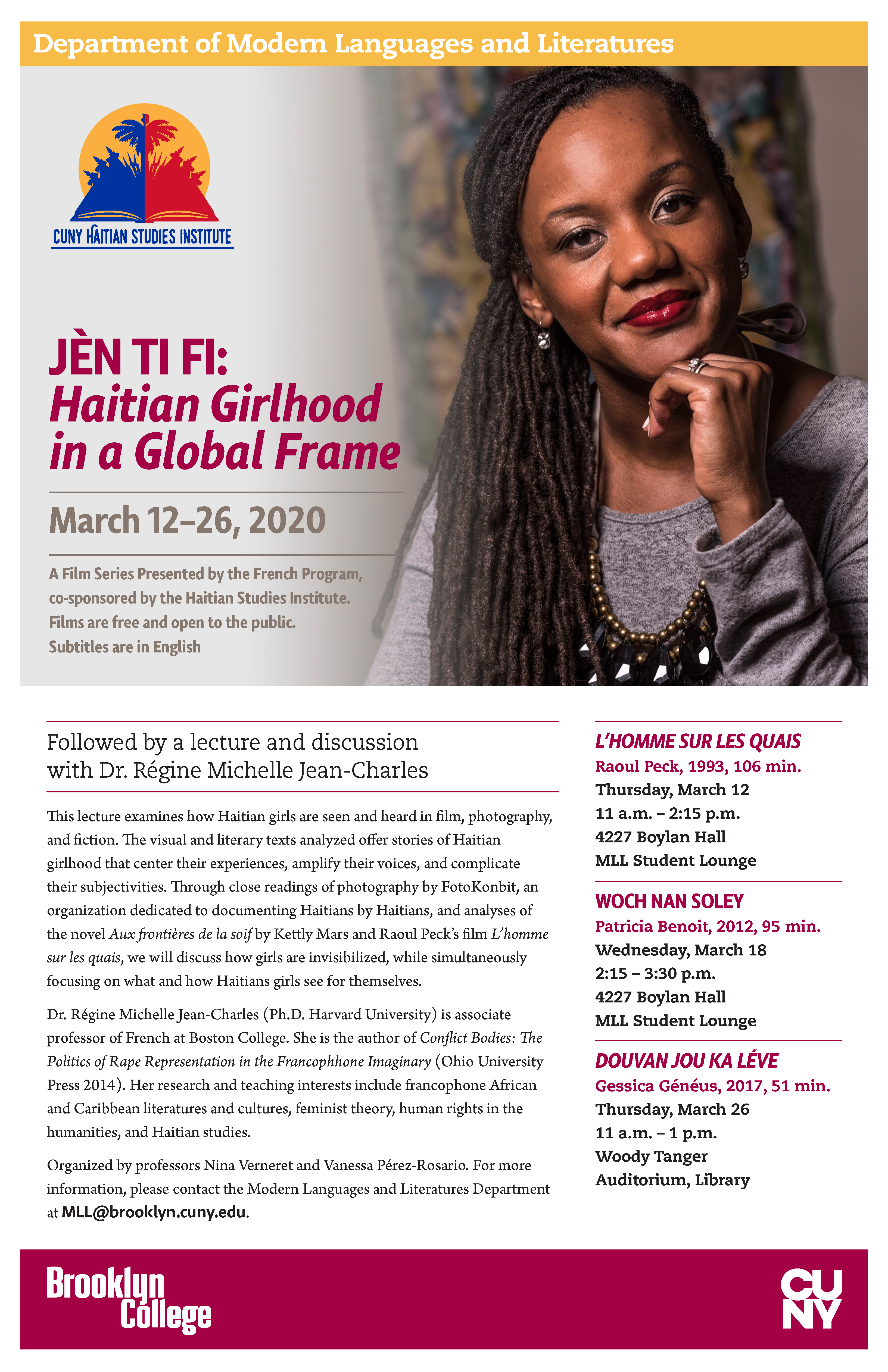 JÈN TI FI: Haitian Girlhood in a Global Frame
March 12–26, 2020
A Film Series Presented by the French Program, co-sponsored by the Haitian Studies Institute. Films are free and open to the public. Subtitles are in English
Followed by a lecture and discussion with Dr. Régine Michelle Jean-Charles
This lecture examines how Haitian girls are seen and heard in film, photography, and fiction. The visual and literary texts analyzed offer stories of Haitian girlhood that center their experiences, amplify their voices, and complicate their subjectivities. Through close readings of photography by FotoKonbit, an organization dedicated to documenting Haitians by Haitians, and analyses of the novel Aux frontières de la soif by Kettly Mars and Raoul Peck's film L'homme sur les quais, we will discuss how girls are invisibilized, while simultaneously focusing on what and how Haitians girls see for themselves.
Dr. Régine Michelle Jean-Charles (Ph.D. Harvard University) is associate professor of French at Boston College. She is the author of Conflict Bodies: The Politics of Rape Representation in the Francophhone Imaginary (Ohio University Press 2014). Her research and teaching interests include francophone African and Caribbean literatures and cultures, feminist theory, human rights in the humanities, and Haitian studies.
Organized by professors Nina Verneret and Vanessa Pérez-Rosario. For more information, please contact the Modern Languages and Literatures Department at MLL@brooklyn.cuny.edu.
L'Home Sur Les Quais
Raoul Peck, 1993, 106 min. Thursday, March 12
11 a.m. – 2:15 p.m.
4227 Boylan Hall
MLL Student Lounge
Woch Nan Soley
Patricia Benoit, 2012, 95 min. Wednesday, March 18
2:15 – 3:30 p.m.
4227 Boylan Hall
MLL Student Lounge
Douvan Jou Ka Léve
Gessica Généus, 2017, 51 min. Thursday, March 26
11 a.m. – 1 p.m.
Woody Tanger
Auditorium, Library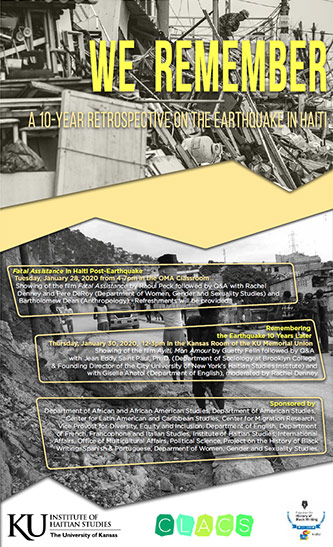 We Remember: A 10-Year Retrospective on the Earthquake in Haiti at the University of Kansas
Fatal Assistance in Haiti Post-Earthquake
Tuesday, January 28, 2020
4–7 p.m.
OMA Classroom
Showing of the film Fatal Assitance by Raoul Peck followed by Q&A with Rachel Denney and Pere DeRoy (Department of Women, Gender and Sexuality Studies) and Bartholomew Dean (Anthropology). Refreshments will be provided.
Remembering the Earthquake 10 Years Later
Thursday, January 30, 2020
Noon–3 p.m.
Kansas Room of the KU Memorial Union
Showing of the film Ayiti, Mon Amour by Guetty Felin followed by Q&A with Jean Eddy Saint Paul (Department of Sociology at Brooklyn College and founding director of the City University of New York's Haitian Studies Institute) and Giselle Anatol (Department of English), moderated by Rachel Denney.