2019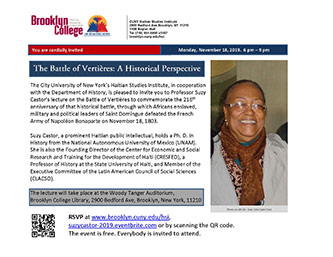 The Battle of Vertières: A Historical Perspective
Monday, November 18, 2019
6–9 p.m.
Woody Tanger Auditorium, Brooklyn College Library
The City University of New York's Haitian Studies Institute, in cooperation with the Department of History, is pleased to invite you to Professor Suzy Castor's lecture on the Battle of Vertières to commemorate the 216th anniversary of that historical battle, through which Africans enslaved, and military and political leaders of Saint Domingue defeated the French Army of Napoléon Bonaparte on November 18, 1803.
Suzy Castor, a prominent Haitian public intellectual, holds a Ph.D. in history from the National Autonomous University of Mexico (UNAM). She is also the founding director of the Center for Economic and Social Research and Training for the Development of Haiti (CRESFED), a professor of history at the State University of Haiti, and member of the Executive Committee of the Latin American Council of Social Sciences (CLACSO).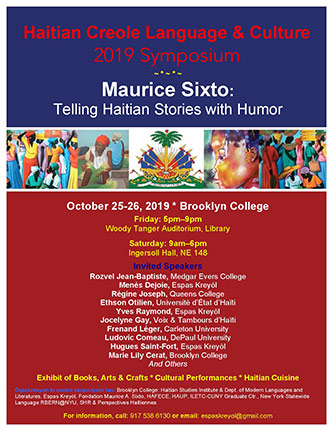 Maurice Sixto: Telling Haitian Stories with Humor
Haitian Creole Language and Culture 2019 Symposium
October 25–26, 2019
Friday: 5–9 p.m., Woody Tanger Auditorium, Brooklyn College Library
Saturday: 9 a.m.–6 p.m., 148 Ingersoll Hall Extension
Invited Speakers
Rozvel Jean-Bapiste, Medger Evers College (CUNY)
Menès Dejoie, Espas Kreyòl
Régine Joseph, Queens College (CUNY)
Ethson Otilien, Université d'État d'Haïti
Yves Raymond, Espas Kreyòl
Jocelyne Gray, Voix & Tambours d'Haïti
Frenand Léger, Carleton University
Ludovic Comeau, DePaul University
Hugues Saint-Fort, Espas Kreyòl
Marie Lily Cerat, Brooklyn College
And others
Exhibit of books, arts and crafts, cultural performances, and Haitian cuisine.
Organizers
Haitian Studies Institute, Brooklyn College
Department of Modern Languages and Literatures
Espas Kreyòl
Foundation Maurice A. Sixto
HAFECE
HAUP
ILETC-CUNY Graduate Center
New York Statewide Language RBERN@NYU
SHR & Perspectives Haïtiennes
Chèche Lavi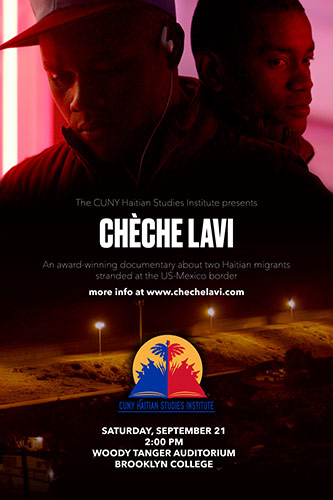 Screening of the New Documentary Chèche Lavi With Producer Rachel Cantave
Saturday, September 21, 2019
2–5 p.m.
Woody Tanger Auditorium, Brooklyn College Libray
Join HSI for the screening of Chèche Lavi, a documentary film by Sam Ellison and produced by Abraham Ávila, Rachel Cantave, and Nora Mendis.
Producer and anthropologist Rachel Cantave, who holds a Ph.D. in anthropology from American University and who is currently an assistant professor at Skidmore College, will present Chèche Lavi at Brooklyn College. 
Chèche Lavi deals with the life experiences of Haitian immigrants who in 2016 got stuck in Tijuana on Mexico–U.S. border, following a mass migration from Brazil. The film explores the relationship between two Haitian men whose friendship and futures were altered by incomprehensible geopolitical forces. Rather than create a journalistic view of this issue, the film conveys a poetic and humanistic view of longing: for a place to belong, for a stable life, for connection, and for companionship.
Academic discussion panel and a jazz concert.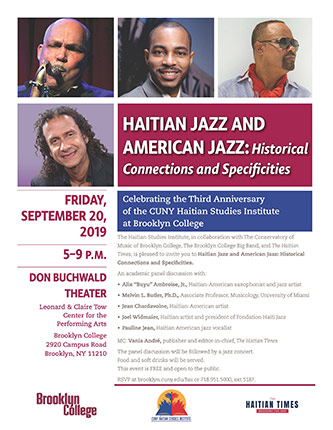 Haitian Jazz and American Jazz: Historical Connections and Specificities
Celebrating the Third Anniversary of the CUNY Haitian Studies Institute at Brooklyn College
Friday, September 20, 2019
5–9 p.m.
Don Buchwald Theater, Brooklyn College
The Haitian Studies Institute, in collaboration with the Conservatory of Music of Brooklyn College, the Brooklyn College Big Band, and The Haitian Times, is pleased to invite you to "Haitian Jazz and American Jazz: Historical Connections and Specificities."
An academic panel discussion with:
Alix "Buyu" Ambroise, Jr., Haitian-American saxophonist and jazz artist
Melvin L. Butler, Ph.D, Associate Professor of Musicology, University of Miami
Jean Chardavoine, Haitian-American artist
Joel Widmaier, Haitian artist and president of Foundation Haiti Jazz
Pauline Jean, Haitian American jazz vocalist
MC: Vania André, publisher and editor-in-chief, The Haitian Times
The panel discussion will be followed by a jazz concert. Food and soft drinks will be served.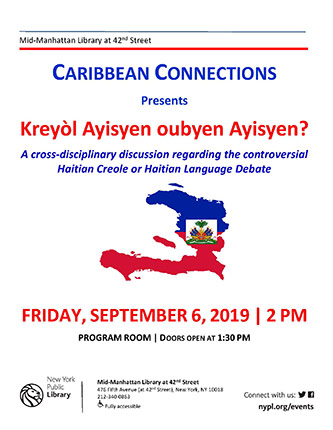 Caribbean Connections: Kreyòl Ayisyen oubyen Ayisyen?
A cross-disciplinary discussion regarding the controversial Haitian Creole or Haitian Language Debate
Friday, September 6, 2019
2 p.m.
Join Jean Eddy Saint Paul, professor of sociology, founding director of the CUNY-wide Haitian Studies Institute, and Wynnie Lamour, educator, founder, and managing director of the Haitian Creole Language Institute for an engaging discussion about Kreyòl Ayisyen (Haitian Creole).
About Kreyòl Ayisyen (Haitian Creole)
Officially recognized in 1987, Kreyòl Ayisyen (Haitian Creole) is one of two official languages of Haiti and is the mother tongue of over 10 million people worldwide. Its origins can be traced back to the 17th century, when enslaved Africans were brought to the French West Indian colony of San Domingo. They revolted against the army troops of Napoleon Bonaparte and, in 1804, Haiti defeated the French and became the first black-led republic of the Western Hemisphere and the first independent Caribbean state.
About Caribbean Connections
Caribbean Connections is a program celebrating the history and culture of people of Caribbean descent, exploring their contributions in the performing and visual arts, literature, history, film, and more!
About Our Guests
Jean Eddy Saint Paul is a professor of sociology at Brooklyn College and the founding director of the CUNY Haitian Studies Institute (CUNY-HSI) at the City University of New York. A political and cultural sociologist with a strong focus on social theory, Saint Paul has conducted theoretical and applied research in Haiti and Mexico, authored books and articles about civil society, political sociology of the Haitian state and ruling class, and the intersection between politics and religion. He is a recipient of the 2017 Outstanding Service to the Residents of Brooklyn honor and an inductee into 2017 The Haitian Roundtable (HRT), and was named the 2017 Haitian-American Changemaker for Outstanding Achievement in Education. He served as a juror for the 2017 Haitian Studies Association (HSA) Book Prize and the LASA Haiti-DR Isis Duarte 2018 Book Prize. Saint Paul holds a B.A. in social work from the State University of Haiti, an M.A. in Latin American Studies from Pontificia University Javeriana in Bogota, Colombia, and a Ph.D. in sociology from El Colegio de Mexico.
Wynnie Lamour is a New York City–based Haitian-American educator specializing in language and communication. She is the founder and managing director of the Haitian Creole Language Institute (HCLI). Lamour's philosophy of teaching is rooted in the idea of "mindfulness," which promotes community and connectedness, while establishing a sense of pride and respect for both the Haitian language and culture. In 2016, she presented a workshop titled "#ReHumanizingHaiti or the Role of Technology and Social Media in Language Activism/Advocacy for Historically Undervalued Languages" at the Annual WikiConference in San Diego. Most recently, she participated in New York University's CAS Innovation in Language Teaching Program. She holds a B.A. in linguistics from Cornell University and an M.A. in urban affairs from Queens College (CUNY). Her work includes a translation of an excerpt of the Franketienne novel Dezafi, published by Transition Magazine (Issue 111, New Narratives of Haiti), a publication of the W.E.B. Du Bois Institute at Harvard University.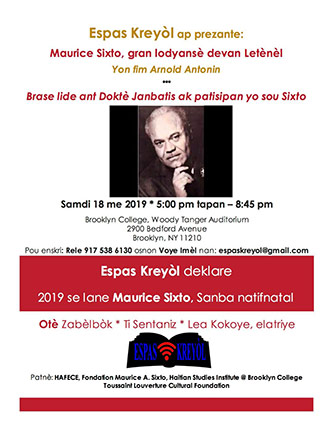 Maurice Sixto, gran lodyansè devan Letènèl
Brase lide ant Doktè Janbatis ak patisipan yo sou Sixto
Yon fim Arnold Antonin
Espas Kreyòl ap prezante
Samdi 18 me 2019
5 tapan – 8:45 p.m.
Brooklyn College, Woody Tanger Auditorium
2900 Bedford Avenue
Brooklyn, NY
Pou enskri: Rele (917)538-6130
Onson Voye Imèl
Nan: espaskreyol@gmail.com
Espas Kreyòl declare 2019 se lane Sixto, Sanba natifnatal
Ote ZabElbok * Ti Sentaniz * Lea Kokoye, elatriye
Patnè: HAFECE, Foundation Maurice A.SIxto, Haitian Studies Institute @ Brooklyn College, Toussaint Louverture Cultural Foundation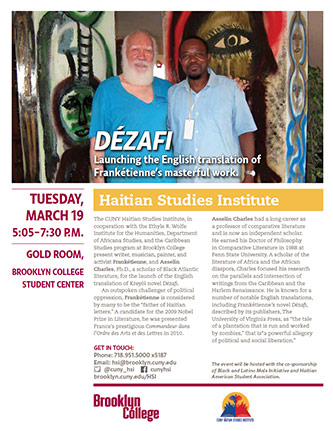 DÉZAFI - Launching the English Translation of Frankétienne's Masterful Work
Tuesday, March 19, 2019
5:05–7:30 p.m.
Gold Room, Student Center
The CUNY Haitian Studies Institute, in cooperation with the Ethyle R. Wolfe Institute for the Humanities, Department of Africana Studies, and the Caribbean Studies program present
Frankétienne - writer, musician, painter, and activist
Asselin Charles, Ph.D. - scholar of Black Atlantic literature
for the launch of the English translation of Kreyòl novel Dézafi.
An outspoken challenger of political oppression, Frankétienne is considered by many to be the "father of Haitian letters." A candidate for the 2009 Nobel Prize in Literature, he was presented France's prestigious Commandeur dans l'Ordre des Arts et des Lettres in 2010. Asselin Charles had a long career as a professor of comparative literature and is now an independent scholar. He earned his Doctor of Philosophy in Comparative Literature in 1988 at Penn State University. A scholar of the literature of Africa and the African diaspora, Charles focused his research on the parallels and intersection of writings from the Caribbean and the Harlem Renaissance. He is known for a number of notable English translations, including Frankétienne's novel Dézafi, described by its publishers, The University of Virginia Press, as "the tale of a plantation that is run and worked by zombies," that is"a powerful allegory of political and social liberation."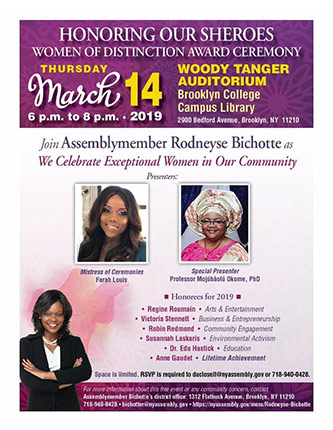 Honoring Our Sheroes
Women of Distinction Award Ceremony
Thursday, March 14, 2019
6–8 p.m.
Woody Tanger Auditorium, Brooklyn College Library
Join Assemblymember Rodneyse Bichotte as we celebrate exceptional women in our community. Presenters: Mistress of Ceremonies Farah Louis, Special Presenter Professor Mojúbàolú Olufúnké Okome.
Honorees for 2019:
Dr. Eda Hastick—Education
Anne Gaudet—Lifetime Achievement
Susannah Laskaris—Environmental Activism
Robin Redmon—Community Engagement
Regine Roumain—Arts and Entertainment
Victoria Stennett—Business and Enterpreunership
RVSP in advance via e-mail or telephone, 718.940.0428. Space is limited. For more information about this even or any community concern, contact Assemblymember Bichotte's district office.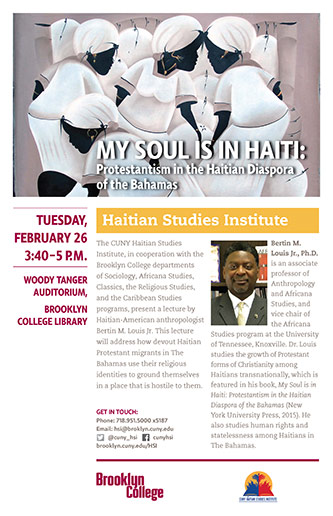 My Soul Is in Haiti: Protestantism in the Haitian Diaspora of the Bahamas
Tuesday, February 26, 2019
3:40–5 p.m.
Woody Tanger Auditorium, Brooklyn College Library
Haitian-American anthropologist and author Bertin M. Louis Jr, will discuss his latest book, My Soul Is in Haiti: Protestantism in the Haitian Diaspora of the Bahamas.
Join Professor Louis for an evening of conversation on the topic of religion and the growth of forms of Protestantism in the Haitian communities of the Bahamas. Louis will cover the topics of the religious identity in the Bahamas and analyze the reasons why Protestantism appealed to the Haitian diaspora in the region.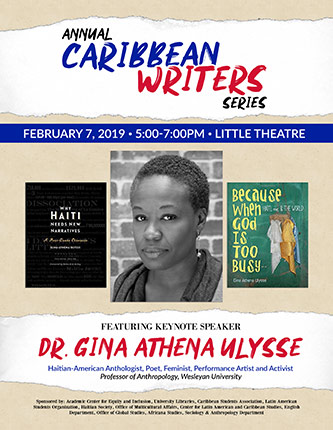 Annual Caribbean Writers Series
Featuring Keynote Speaker Dr. Gina Athena Ulysse
Thursday, February 7, 2019
5-7 p.m.
Little Theater at St. Johns University
8000 Utopia Pkwy, Jamaica, NY
Haitian-American Anthologist, Poet, Feminist, Performance Artist, Activist and Professor of Anthropology at Wesleyan University will be giving a talk within the interdisciplinary and intersectional field of Haitian Studies.