2021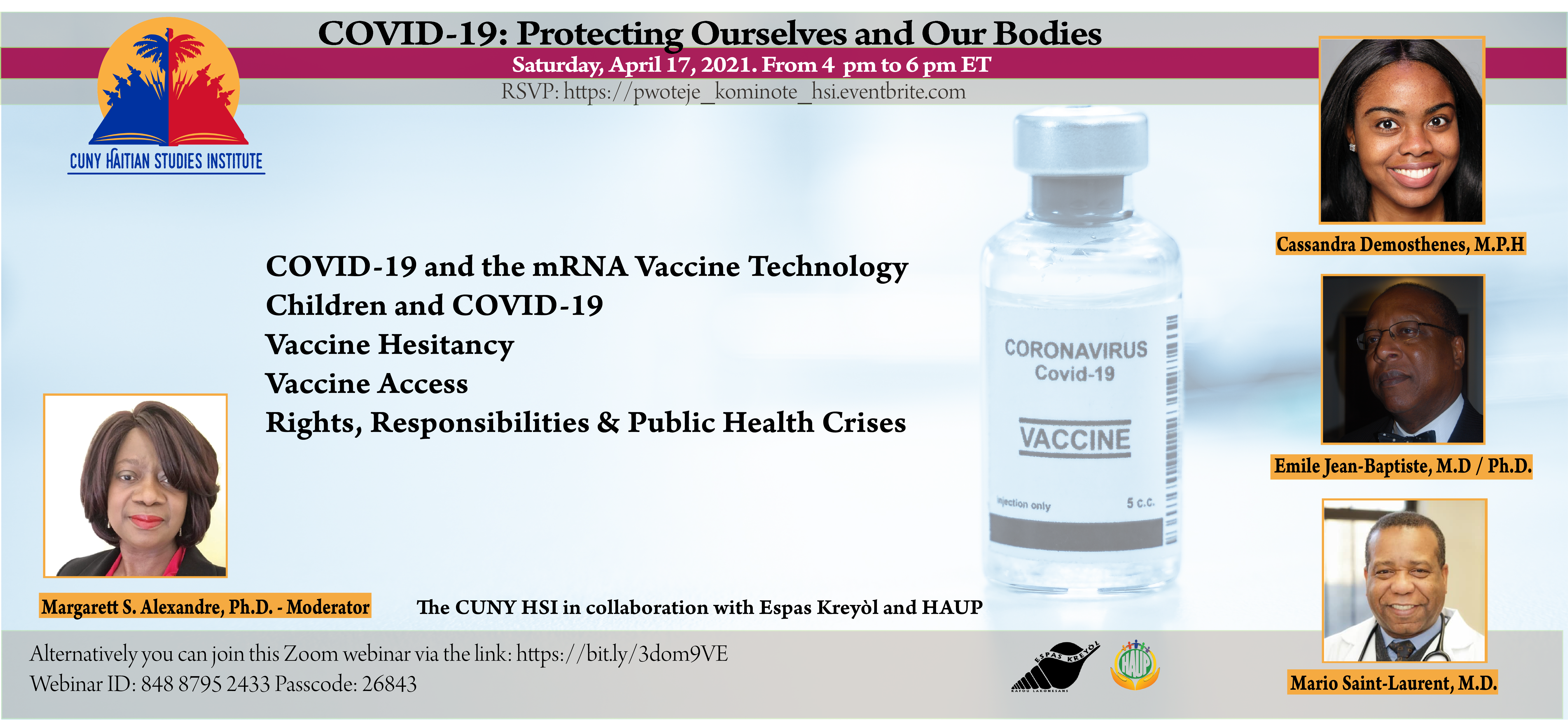 COVID-19 and the mRNA Vaccine Technology
Children and COVID-19
Vaccine Hesitancy
Vaccine Access
Rights, Responsibilities & Public Health Crises
COVID-19: Protecting Ourselves and Our Bodies
Saturday, April 17, 2021
4-6 p.m. ET
Margarett S. Alexandre, Ph.D.
Cassandra Demosthenes, M.P.H.
Emile Jean-Baptiste, M.D/Ph.D.
Mario Saint-Laurent, M.D.
The CUNY HSI in collaboration with Espas Kreyòl and HAUP
Margarett S. Alexandre, Ph.D.
Dr. Margarett Alexandre holds a doctorate degree in Nursing from the CUNY Graduate Center. She is Assistant Professor and Academic Coordinator at the York College Department of Nursing, School of Health Sciences and Professional Programs of the City University of New York (CUNY). Her research interest involves disability study in the post-2010 Haiti earthquake. Dr. Alexandre also serves as a mentor to students and engages in various community initiatives for health improvement both nationally and internationally. She shares a great interest in transcultural nursing education, community engagement, service-learning, active learning strategies, and health disparities.
Cassandra Demosthenes, M.P.H.
Cassandra Demosthenes is a Senior Manager for Community-Based Programs at Diaspora Community Services (DCS). She holds an M.P.H. with a focus on epidemiology from SUNY Downstate Medical Center, and a dual B.S. in biology and psychology from St. Peter's University.
Emile Jean-Baptiste, M.D / Ph.D.
Dr. Emile Jean-Baptiste holds both a medical degree from Cornell University Medical College and a doctorate degree from Fordham University. Dr. Jean-Baptiste has authored numerous medical and scientific publications covering various topics. His clinical areas of interest include General Internal Medicine, Infectious Diseases, Public Health, Immunology, Virology, and Oncology. His medical degree is. He also completed a post-graduate training in Internal Medicine at Cornell and Memorial Sloan-Kettering Cancer Center in NY.
Mario Saint-Laurent, M.D.
Dr. Saint-Laurent holds a medical degree from the Universidad Autonoma De Guadalajara, Facultad De Medicina in Mexico. His specialization is Pediatrics Medicine. In addition to his private practice, Dr. Saint-Laurent is affiliated with Brookdale University Hospital Medical Center and Flushing Hospital Medical Center, among others. Dr. Saint-Laurent is active in the international organization Association of Haitian Physicians Abroad (AMHE)