Brooklynese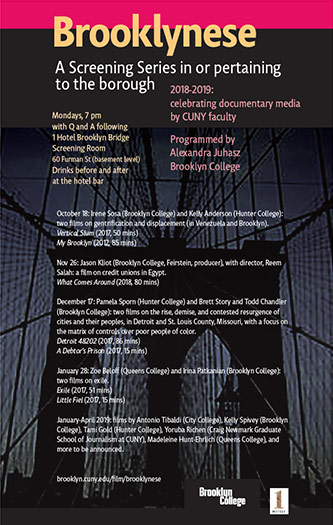 A Screening Series in or pertaining to the borough
2018-2019: celebrating documentary media by CUNY faculty
Programmed by Alexandra Juhasz, Brooklyn College
Mondays, 7 p.m., with Q and A following
1 Hotel Brooklyn Bridge
Screening Room
60 Furman St (basement level)
Brooklyn, NY 11201
Drinks before and after at the hotel bar
October 29, 2018
Irene Sosa (Brooklyn College) and Kelly Anderson (Hunter College): two films on gentrification and displacement (in Venezuela and Brooklyn).
Vertical Slum (2017, 50 mins)
My Brooklyn (2012, 85 mins)
November 26, 2018
Jason Kliot (Brooklyn College, Feirstein, producer), with director, Reem Salah; and Sarah Christman (Brooklyn College): a film on credit unions in Egypt and another on moments of recurrence and change on the shoreline of NYC's Jamaica Bay.
What Comes Around (2018, 80 mins)
Broad Channel (2010, 14 mins)
December 17, 2018
Pamela Sporn (Hunter College) and Brett Storey and Todd Chandler (Brooklyn College): two films on the rise, demise, and contested resurgence of cities and their peoples, in Detroit and St. Louis County, Missouri, with a focus on the matrix of controls over poor people of color.
Detroit 48202 (2017, 86 mins)
A Debtor's Prison (2017, 15 mins)
January 28, 2019
Zoe Beloff (Queens College) and Irina Patkanian (Brooklyn College): two films on exile.
Exile (2017, 51 mins)
Little Fiel (2017, 15 mins)
January-April, 2019
films by Antonio Tibaldi (City College), Kelly Spivey (Brooklyn College), Tami Gold (Hunter College), Yoruba Richen (Craig Newmark Graduate School of Journalism at CUNY), Madeleine Hunt-Erlich (Queens College), and more to be announced.