Student Spotlight - Alexandria James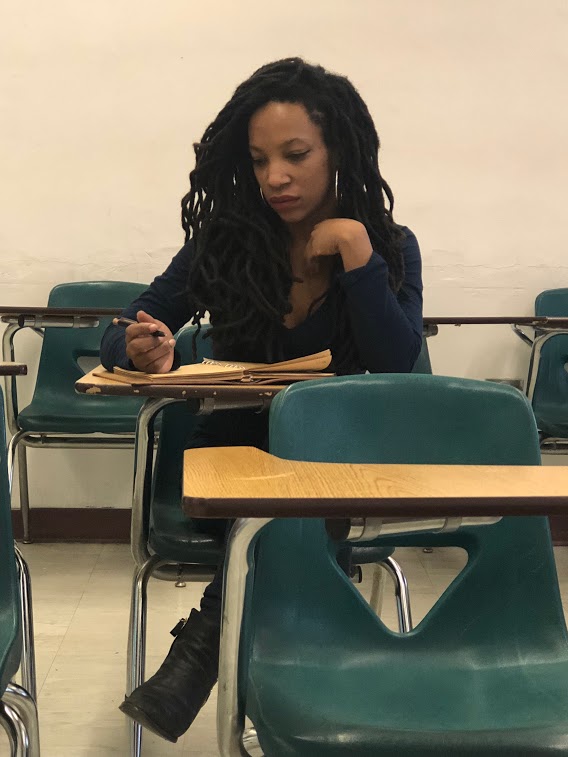 Q: What is your current class standing and anticipated graduation date?
If all goes well, I will be graduating in spring 2020.
Q: What are your major(s) and/or minor(s)?
I am double majoring in philosophy with honors and Africana studies.
Q: Why did you choose your majors? What has motivated you to choose this path?
My first semester at Brooklyn College, I took the CORC class "The Self and Society" with Professor Raymond. She had us read Plato's Republic, Martin Luther King Jr.'s Letter from Birmingham Jail, and Dostoyevsky's Notes From the Underground— just to name a few. I had no idea such seemingly disparate figures could exist on one syllabus, and yet, it all made so much sense. At the end of the semester she said to me, "Are you a philosophy major, and if not, why?" Ha! I honestly hadn't even considered it before then. I think I talked myself out of philosophy being "for" me. In any case, I took "Social Philosophy" the following semester with Professor Chopra. I was particularly moved by One Dimensional Man, by Herbert Marcuse. I couldn't get enough! I started looking deeper into his work, and that's how I learned that he mentored Angela Davis. At that point, Philosophy stopped being something that I simply enjoyed, to feeling more real. I figured I would continue with Africana studies with philosophy as my minor. It was actually Professor Chopra who suggested that I not just become a philosophy major, but that I pursue the honors track. I was hesitant at first, but I'm so glad I did, as it has really anchored my research goals.
Q: What are your goals for the future? Do you have plans to attend graduate school or do you have a career in mind upon graduation?
After a lot of soul searching, I have decided that I want to pursue graduate studies in philosophy. I am looking at schools that are supportive of continental philosophy. I love research, but representation has had such a deep impact on my academic experience, that I have become more and more drawn to the classroom as well.
Q: What are your interests in philosophy? Who are your figures of interest?
My primary interests are aesthetics and black feminist philosophy/womanism. I draw heavily from moral philosophy, metaphysics, and existentialism in my work. Jean-Paul Sartre, Herbert Marcuse, and Anna Julia Cooper come to mind. I've been thinking a lot lately about Camus' The Myth of Sisyphus in relation to black women. To that end, I am really intrigued by Britney C. Cooper's ideas of the "eclectic archive" and "embodied discourse." Oh, and Charles W. Mills is just doing incredible work in moral philosophy right now. I would love to work with him one day! Honorary nod to Jean Baudrillard even though he ruined my life. Half kidding. But yeah, those are a few.
Q: Do you have a favorite quote by a philosopher? Why do you like that quote and what does it mean to you?
"At the magic touch of the beautiful the secret chords of our being are awakened, we vibrate and thrill in response to its call. Mind speaks to mind. We listen to the unspoken, we gaze upon the unseen. The master calls forth notes we know not of. Memories long forgotten all come back to us with a new significance. Hopes stifled by fear, yearnings that we dare not recognize, stand forth in new glory. Our mind is the canvas on which the artists lay their colour; their pigments are our emotions; their chiaroscuro the light of joy, the shadow of sadness. The masterpiece is of ourselves, as we are of the masterpiece."—Kakuzō Okakura, The Book of Tea
Q: What is your favorite philosophical book and/or text?
Lately, I keep coming back to The Book of Tea by Kakuzō Okakura. It's one of those texts I stumbled upon while looking for something completely unrelated, but wound up being exactly what I was looking for. It's so elegant and grounding. What I love so much about aesthetics is its undeniably intellectual foundations, that are so bound by the senses. It's a field where notions like "embodied discourse" can really thrive. We really do feel into everything we know, don't we? The quote I chose, I feel, really captures that.
Q: Have you had any recent accomplishments such as conferences you attended/presented at, awards/scholarships you have received, contests you have won, publications you have made, and so forth?
In perhaps an elaboration on my graduate school aspirations, I was accepted to Brooklyn College's chapter of the Mellon Mays Undergraduate Fellowship Program. Professor Chopra agreed to be my mentor for the program, which I'm so grateful for. In fact, as of this writing, I will be presenting my research (or what I have cobbled together so far!) in just over two weeks' time at the MMUF Fall Student Showcase. I am so proud to be among this group of scholars and am still in awe that I was chosen. I'm especially proud to be among the BCMMUF family as a philosophy major. I credit my social and political philosophy courses, as well as George Cunningham, who gently insisted that I apply, and Prudence Cumberbatch, who helped edit my application essay (both in Africana studies) for helping me get to where I am today in my studies. You know, even in Africana classes you'll find that there is a certain amount of convincing that has to occur that engaging the African diaspora in a scholarly way is legitimate. My two mentors in that department predate the inception of black studies as an option in universities! Just to give some perspective. Working with them, seeing bell hooks and James Baldwin on the syllabi in my philosophy courses profoundly shifted what I understood was possible. Representation matters so, so much. I feel so grateful walking into the remainder of my philosophy honors requirements knowing that such voices can take space in this field.
Q: What are one or two fun facts about you?
I have been a musician for most of my life. My main instruments are guitar and voice.