Bernardita Llanos M.—2021-23 Endowed Chair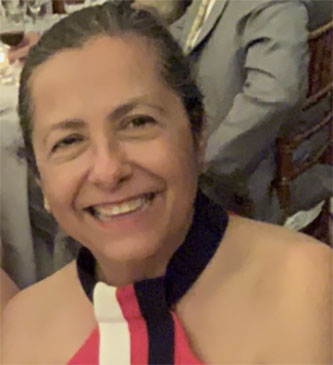 Bernardita Llanos M. is Professor of Latin American culture, film and literature in the Modern Languages and Literatures Department at Brooklyn College. She received her Ph.D. in Hispanic and Luso-Brasilian Literatures and Linguistics from the University of Minnesota. Professor Llanos is currently the co-chair of the Southern Cone Studies Section in the Latin American Studies Association (LASA) and has been the president and vice president of the Association of Gender and Sexualities Studies (AEGS, former AILFH). Her research focuses on gender and authoritarianism, especially the legacy of the dictatorships in the Southern Cone, namely, Argentina, Chile, and Uruguay. Professor Llanos's current book project on the feminist surge in Chile, draws from the fourth way of feminism to unveil systemic and structural oppressions that cut across institutions and cultural practices.
Green Wave: Feminisms in the Global South - a series of talks and discussions
In Cooperation
Departments of Modern Languages and Literatures, Puerto Rican and Latino Studies, Sociology, Television, Radio & Emerging Media, the Ethyle R. Wolfe Institute for the Humanities, and the Women's and Gender Studies program
More Information
Bernardita Llanos, WGST Endowed Chair, 2021‐2023
BLlanos@brooklyn.cuny.edu
718.951.5476
LASTESIS: Pop Feminism from the Global South
with Milena Grass, Catholic University of Chile, Translator and Theater Scholar
Thursday, October 28
5-6:30 p.m.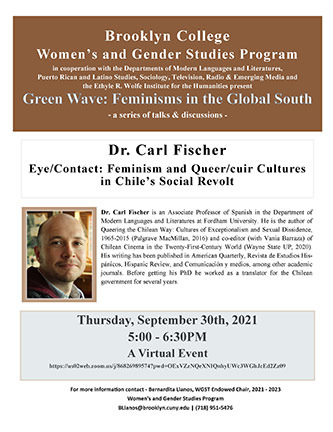 Eye/Contact: Feminism and Queer/cuir Cultures in Chile's Social Revolt
with Dr. Carl Fischer, Associate Professor of Spanish, Department of Modern Languages and Literatures, Fordham University
Thursday, September 30, 2021
5-6:30 p.m.
via Zoom
Dr. Carl Fischer is an associate professor of Spanish in the Department of Modern Languages and Literatures at Fordham University. He is the author of Queering the Chilean Way: Cultures of Exceptionalism and Sexual Dissidence, 1965-2015 (Palgrave MacMillan, 2016) and co-editor (with Vania Barraza) of Chilean Cinema in the Twenty-First-Century World (Wayne State UP, 2020). His writing has been published in American Quarterly, Revista de Estudios Hispánicos, Hispanic Review, and Comunicación y medios, among other academic journals. Before getting his Ph.D. he worked as a translator for the Chilean government for several years.
Endowed Chair Reception
Tuesday, September 28, 2021
3-4 p.m.
via Zoom
Join us in welcoming our new Endowed Chair 2021-2023, Bernardita Llanos M., who brings a diverse and international professional experience and education as well as exposure to multiple cultures, academic institutions, and countries.
More Information
NFlorence@brooklyn.cuny.edu
IAdams@brooklyn.cuny.edu
718.951.5476