Women's and Gender Studies
Learn about the myriad issues affecting women and sexual minorities.
Our interdisciplinary Women's and Gender Studies Program will provide you the skills to examine and critique cultural, economic, historical, political, social, and sexual issues using feminist and queer philosophical paradigms. Aside from learning about a cross section of feminist and queer thinkers, places and events, you will explore ideas such as how one's gender affects access to power and whether or not the idea of power itself is an inherently problematic arrangement. You will also have the opportunity to study how other factors such as race, class, sexuality, and ability further impact one's feminist identification. A degree in women's and gender studies opens up the door for careers in activism, education, law, medicine, nonprofit, politics, psychology, and more. We also offer a minor in lesbian, gay, bisexual, transgender, and queer (LGBTQ) studies, which investigates many of the same issues from the perspectives of queer theory and queer thinkers.
Women's Leadership Mentor Symposium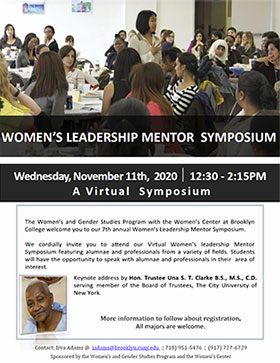 Wednesday, November 11, 2020
12:30-2:15 p.m.
Keynote Address: Hon. Trustee Una S. T. Clarke, B.S., M.S., C.D., serving member of the Board of Trustees, The City University of New York
Summer 2020 Hours
During the following periods:
July 6 - July 20
August 12 - August 26
you can contact the WGST Program Coordinator, Dr. Mobina Hashmi at mhashmi@brooklyn.cuny.edu or at WGSTCoordinator@brooklyn.cuny.edu with any questions. All e-mails will be answered within 24 hours.
If you have an urgent question, you can reach the WGST Administrative Coordinator, Ms. Irva Adams, by phone at 718.951.5476 between 10 a.m. and 5 p.m., Monday through Thursday.
You can, of course, always contact us by e-mail if you have any questions - even outside these dates! But, it might take a bit longer for us to get back to you. Thank you for your understanding.
Guide for Prospective Majors and Minors
Contact Information
Program Coordinator: Namulundah Florence

Location: 1207 Ingersoll Hall
Phone: 718.951.5476
Email: WGSTCoordinator@brooklyn.cuny.edu