Events
What 2020 Has Taught Us About Our Present and Our Path to Liberation
with Imani Rupert-Gordon
Tuesday, November 17, 2020
11 a.m.-12:30 p.m.
Imani Rupert-Gordon is the Executive Director for the National Center for Lesbian Rights (NCLR). NCLR is a national legal organization committed to advancing the civil and human rights of lesbian, gay, bisexual, and transgender people and their families through litigation, legislation, policy, and public education.
Previously, Imani served as the Executive Director for Affinity Community Services. Affinity is a social justice organization that works with the entire LGBT community with a focus on Black women. She also served as the Director of the Broadway Youth Center, part of Howard Brown Health in Chicago, providing wrap around services for LGBTQ youth experiencing housing instability.
Rupert-Gordon received a Master's degree from the University of Chicago School of Social Service Administration and a Bachelor's degree in Sociology from the University of California, Santa Barbara.
Sponsored by the Brooklyn College Endowed Chair of Women and Gender Studies and The Ethyle R. Wolfe Institute for the Humanities.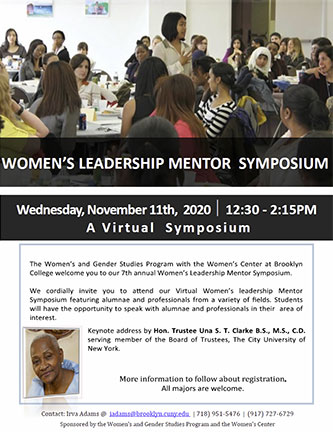 Women's Leadership Mentor Symposium
Wednesday, November 11, 2020
12:30-2:15 p.m.
The Women's and Gender Studies Program with the Women's Center at Brooklyn College welcome you to our 7th annual Women's Leadership Mentor Symposium. The symposium features alumnae and professionals from a variety of fields. Students will have the opportunity to speak with alumnae and professionals in their area of interest.
Keynote Address
Hon. Trustee Una S. T. Clarke, B.S., M.S., C.D., serving member of the Board of Trustees, The City University of New York
More Information
Irva Adams
iadams@brooklyn.cuny.edu
718.951.5476
917.727.6729
Sponsored by the Women's and Gender Studies Program and the Women's Center.