Robyn C. Spencer—2018–19 Visiting Endowed Chair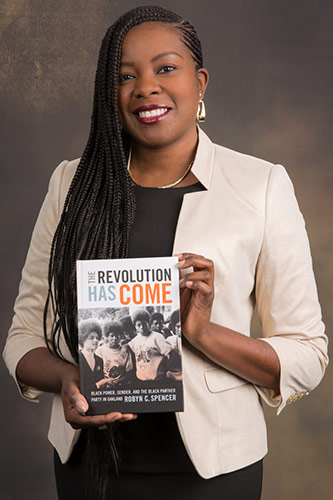 As 2018–19 Visiting Endowed Chair in Women's and Gender Studies at Brooklyn College and Visiting Associate Professor in History, my goals are to strengthen the WGST program's connections to departments and units across campus; reach out to community-based groups to connect the budding expertise of student-scholars to real world research; and root WGST in local issues that are both timely and deeply historical.
With the collaboration and support of the WGST program staff, I have designed a diverse array of public programming to highlight the often-hidden history of black women in New York. "Challenging Erasures: Reinscribing Black Women's History in New York" is an interdisciplinary series that engages the campus in the collective examination of race and gender as it intersects around issues of gentrification and displacement; police violence and historical memory; radical grassroots organizing; and artistic production. All events are free and open to the public with RSVP. 
My courses will be connected to the Challenging Erasures series as well. Students should look forward to learning outside of the classroom, meeting important figures in history, and hearing lectures from renowned scholars. They will have the opportunity to conduct oral histories, plan events, and share the results of their research in public.
In fall 2018, I am teaching WGST 3228: Daughters of the Promised Land: Women in American History and WGST 1001: Introduction to Women's Studies: Sex, Gender, and Power. 
In spring 2019 I will teach WGST 1001 and WGST 3350: Women in the Black Freedom Struggle, which is also cross listed with Political Science.
I look forward to engaging the campus community at Brooklyn College this year.