Fall 2015
Music in Polycultural America
Spirituals as Art Songs
With
Marti Newland, soprano
Magdalena Stern-Baczewska, piano
Soprano and ethnomusicologist Marti Newland, accompanied by Magdalena Stern-Baczewska, will perform and discuss spirituals as art songs. The event will explore the concert tradition of spiritual singing, addressing how singers and arrangers complicate "folk" and "art" music categories through a critique of the politics of racial inequality in the contemporary life of the repertoire.
Monday, October 26, 2015
2:15 p.m.
State Lounge, Brooklyn College Student Center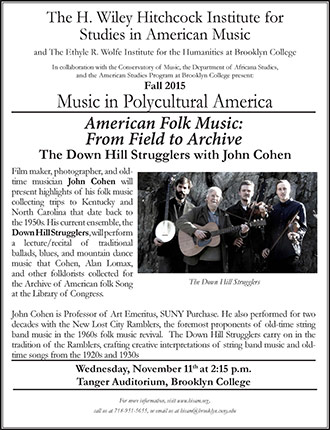 American Folk Music: From Field to Archive
The Down Hill Strugglers With John Cohen
Filmmaker, photographer, and oldtime musician John Cohen will present highlights of his folk music collecting trips to Kentucky and North Carolina that date back to the 1950s. His current ensemble, the Down Hill Strugglers, will perform a lecture/recital of traditional ballads, blues and mountain dance music that Cohen, Alan Lomax, and other folklorists collected for the Archive of American Folk Song at the Library of Congress.
John Cohen is professor of art emeritus, SUNY Purchase. He also performed for two decades with the New Lost City Ramblers, the foremost proponents of oldtime string band music in the 1960s folk music revival. The Down Hill Strugglers carry on in the tradition of the Ramblers, crafting creative interpretations of string band music and oldtime songs from the 1920s and 1930s.
Wednesday, November 11, 2015
2:15 p.m.
Tanger Auditorium, Brooklyn College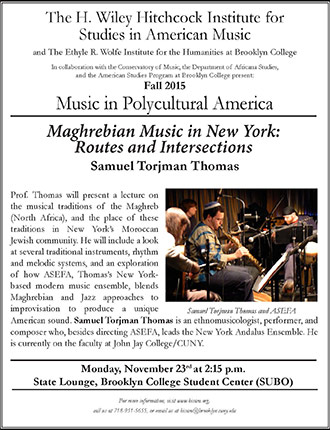 Maghrebian Music in New York: Routes and Intersections
Samuel Torjman Thomas
Professor Thomas will present a lecture on the musical traditions of the Maghreb (North Africa), and the place of these traditions in New York's Moroccan Jewish community. He will include a look at several traditional instruments, rhythm and melodic systems, and an exploration of how ASEFA, Thomas's New York–based modern music ensemble, blends Maghrebian and jazz approaches to improvisation to produce a unique American sound. Thomas is an ethnomusicologist, performer, and composer who, besides directing ASEFA, leads the New York Andalus Ensemble. He is currently on the faculty at John Jay College (CUNY).
Monday, November 23, 2015
2:15 p.m.
State Lounge, Brooklyn College Student Center